Denis Knight and Cristy Burne, Wednesday Weeks and the Crown of Destiny (Wednesday Weeks, #2), Hachette Australia, September 2021, 272 pp., RRP $16.99 (pbk), ISBN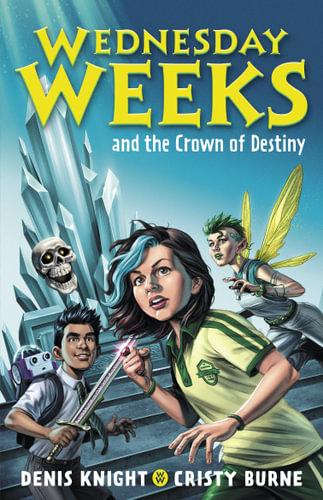 Wednesday Weeks never wanted to be a sorcerer's apprentice. She's a scientist, not a magician! But after her last adventure when Wednesday and her best friend Alfie were thrown into a quest to save her master (also, incidentally, her grandfather!), she's kind of getting the hang of this magic thing. What a relief, because Gorgomoth the Unclean just escaped his prison and is now on a mission to ruin everything!
When Gorgomoth turns Grandpa into a frog, Wednesday is left to take back the Crown of Glory before the damage is done for good. But she and Alfie soon discover that wormholes, giant pinball machines and a stolen crown are only the beginning. Throw in a floating fortress full of goblins, some misbehaving magic and a missing pair of eyebrows, and this brave pair are going to have to take their magic – and their science – to the next level.
Wednesday Weeks and the Crown of Destiny is the second book in the Wednesday Weeks series co-authored by scientists-turned-writers Cristy Burne and Denis Knight. It is a fast-paced thrill ride of science, magic, courage, and friendship.
Wednesday Weeks is an excellent series for all kids who love adventure and fantasy, but it would be an outstanding series to encourage young boys to branch out and appreciate female protagonists.
The science element of the book stems from the co-authors who have a professional background in science and technology. Every experiment in the book could easily be replicated in a classroom environment, making Wednesday's adventures a perfect classroom read.
This book is another excellent middle-grade portrayal of what normal, healthy, modern friendships look like. Besides all their sciency adventures, Wednesday and Alfie are two ordinary pre-teens who sometimes bicker, sometimes disagree but always have each other's backs. Their friendship celebrates what makes us different and unique and how differences don't affect good friendships.
Wednesday Weeks and the Crown of Destiny is another smart and funny adventure in the Wednesday Weeks series, perfect for all children aged 8 to 12 years.
Reviewed by Geni Kuckhahn