Ross Montgomery (text) and Sarah Warburton (illustrator), Ten Delicious Teachers, Walker Books, August 2021, 32 pp., RRP $28.95 (hbk), ISBN 9781406389821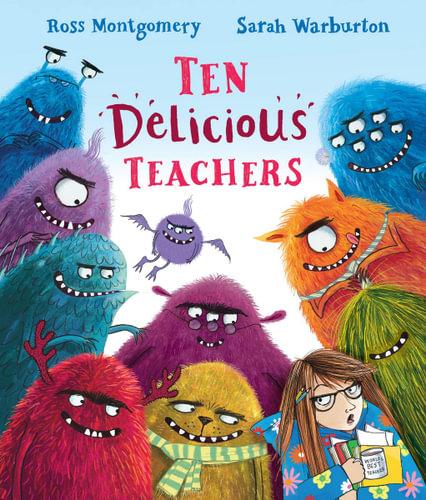 A cheeky and quirky counting book that is full of unexpected encounters and written in a deliciously appealing rhyme with comical and mischievous illustrations and bold vibrant colours.
Ten tired teachers have inadvertently missed the last bus home. Mr Smith, one of the teachers, saves the day or so it seems when he discovers a shortcut through the forest! They'll be back in time for tea! With spirits high the teachers skip off together, through the forest, completely unaware that there is a pack of hungry, troublesome and crazy looking forest monsters lying in wait for the unsuspecting hikers… but little do these whacky creatures realise that there is one teacher in the group who will not tolerate their poor and fiendish behaviour, and makes for a very funny twist at the end.
The wonderful illustrations capture the individuality of each of the hapless teachers in a subtly irreverent manner. I immediately began thinking about teachers that I have worked with over the years who would be a likely match for those in the story. I also wondered which teacher would be a perfect fit for me (Madame Masson!!!!!!) so no 'shortcuts through the forest' for me. The monster hoard is depicted as both ridiculous and menacing, and fearful and cooperative throughout the course of the book. Further entertainment is gained through the detailed illustrations including the 'teacher' trophies each of the monsters keep for themselves.
The choice of language reflects the perils of the journey with great effect, whilst making an efficient use of rhyme to learn counting and counting patterns for a young audience. Sarah's illustrations effectively bring Montgomery's words to life.
Young readers and audiences will be entertained by this comic countdown chant, especially when it is read aloud, and it is certain to become a story time favourite, either at school or at home.
Ten Delicious Teachers is recommended for children aged 3 -6 years. It is a 'Great Read Aloud' book and the chant 'Now there's only…' lends itself beautifully to audience participation.
Please note that there is an author reading available (please see link below); just enough to encourage a reader to read on… Ten Delicious Teachers – Author Reading – YouTube. There are further resources available on the author's website.
Reviewed by Julie Deane