Katrina Nannestad, We Are Wolves, ABC Books, October 2020, 320 pp., RRP $19.99 (hbk), ISBN 9780733340888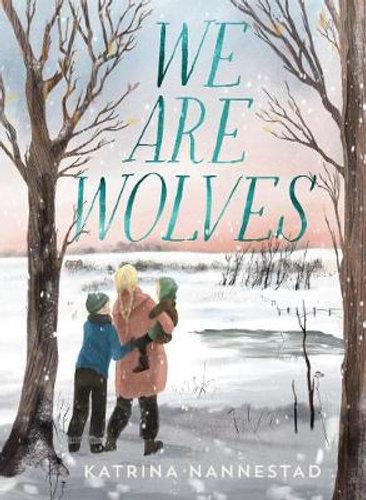 When We Are Wolves begins, readers are introduced to a loving German family. They are what you would expect every family to be. Unfortunately, Hitler is losing the war and conscripting everyone he can to join his armies – including the Wolf family's father.
Like good Germans, the family supports Hitler outwardly, but there are enough inferences for readers to realise they start to doubt his actions and the events that are going on around them.
Eventually, the family must leave their village to escape the oncoming Russian army. These scenes are handled as sensitively as possible by the author, even when desperate decisions must be made.
Liesl is our point of view into this world. At the beginning there is a childlike innocence to her that slowly dissipates as the book progresses and the Wolf Children become the Wolfskinder – trying to survive however they can in the aftermath of the war.
Otto is very much a younger brother, filled with a childlike naughtiness, but also there when Liesl needs him. Mia is their youngest sibling, who has only just learned to speak properly. It's Mia who breaks down barriers between the children and the adults they find along the way. For who can resist a child who doesn't understand that she is German and that Russian soldiers should hate her, not play with her to make her laugh?
The children travel from abandoned house to abandoned house trying to find food and shelter during the winter. They meet other children and adults, and their journey is filled with desperation, hunger, and fear. At one point, they find themselves with more Wolfskinder, a group who tells them that Lithuania is where they should go because food is plentiful there.
Lisel especially grows into someone desperate to hold on to who they were, however she begins to understand that they have to do everything they can to survive this new world of theirs – and that may include letting go of who they were.
At 320 pages, I expected a dense book, but Katrina Nannestad skilfully draws readers into this world, and Lisel, Otto and Mia's journey through it. She doesn't shy away from the worst parts of World War 2, and what Hitler did, but she does handle them in a way that young readers can understand and feel the full impact of what happened. It was hard to read of the Wolf family's experiences, especially the children at the core of the book, Liesl, Otton and Mia, as they navigate life after the Germans lose World War 2.
We Are Wolves is a book that left me feeling conflicted. It is a confronting read in some places, delving into complex, mature themes but making them accessible to a young age group.
We Are Wolves has been Short listed in the 2021 CBCA Book of the Year Awards, in the Younger Reader category.
Reviewed by Verushka Byrow