Kate Constable, The January Stars, Allen & Unwin, March 2020, 288 pp., RRP $16.99 (pbk), ISBN 9781760525026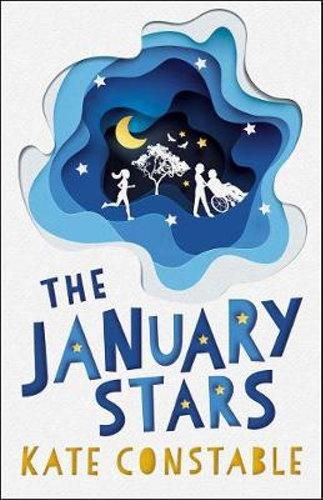 The January Stars by Kate Constable is an urban adventure which follows twelve-year-old Clancy's quest to find a better home for her grandfather. With their parents overseas dealing with a family emergency, Clancy and her older sister Tash accidentally-on-purpose kidnap their Pa from his aged-care home determined to find him a better place to live. As their quest takes them through city, country and surf, Clancy becomes increasingly aware of star themed signs that make her suspect the ghost of her grandmother is guiding them. She opens her heart and mind to these signs in the hope they will lead her towards a resolution that might just bring her scattered family back together.
There is so much to love about this family adventure. I loved the setting around Melbourne and Victoria and how wonderfully Australian the story was. I loved the concept of kids understanding their Pa isn't happy where he was and deciding to do something very practical about it, and I loved the inclusion, front and centre, of someone elderly in a middle-grade story. It was a refreshing take to have kids take on the responsibility of an adult like Pa who, having had had a stroke, is now non-verbal and in a wheelchair. The illusion of family connection beyond the living and beyond our current understanding also added an element of magic and science that became a delightful theme throughout.
I loved the characters of Clancy and Tash and how different they are. Clancy is thoughtful, observant, and loyal, a true day dreamer who wants to mull things over and frightened by change. Tash on the other hand is confident, determined, and responsible. She's a real go-getter who ploughs right on and gets things done, fast. This difference initially creates a wedge between the sisters but as their quest continues and they need to rely on each other, they learn to value their differences and appreciate them. I found the way they interacted with each other and their Pa very authentic and these relationships were a highlight of the book along with the way the Australian landscape is rendered in vivid and compelling detail. I enjoyed traversing the city arcades of Melbourne and then experiencing the sights and sounds of the Australian bush.
Author Kate Constable was inspired to write this story when her own father suffered from a stroke. She was interested in exploring how family relationships can survive and even thrive despite the devastation of stroke and aphasia. It's this aspect of the story that makes it fascinating and unique.
The January Stars is a lovely, thoughtful novel about the complications of family, change and how we treat the elderly, with just a little bit of sciency magic thrown in too. It's perfect for kids aged 11-13 who enjoyed The Secrets We Keep by Nova Weetman, The Year the Maps Changed by Danielle Binks and Raymie Nightingale by Kate DiCamillo.
Reviewed by Renee Mihulka