Cath Moore, Metal Fish, Falling Snow, Text Publishing, July 2020, 272 pp., RRP $19.99, ISBN 9781922330079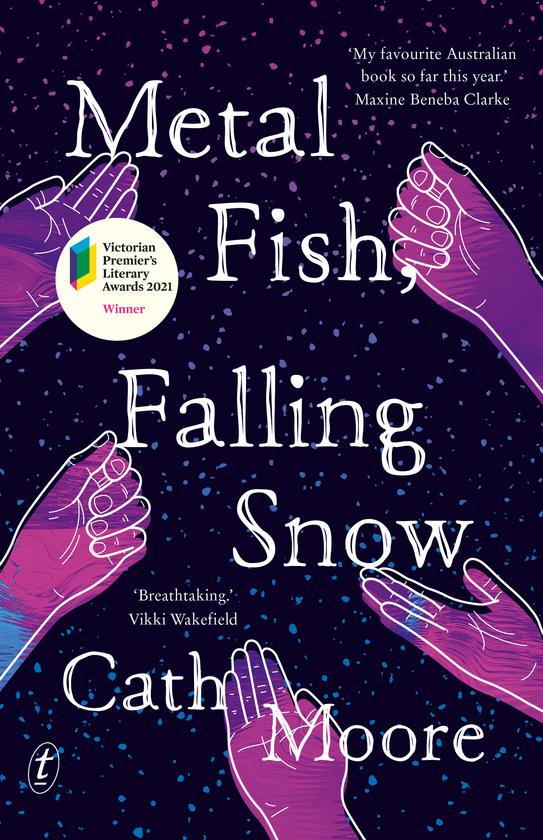 Dylan was born to a French mother and Guyanese father. In her small outback town of Beyen, Dylan has the wrong coloured skin. She and her mother dreamed of moving to Paris, where Dylan wouldn't stand out. But her mother died in a freak accident and Dylan is in the care of her mother's boyfriend, Pat. Dylan can barely comprehend the loss of her mother, but Pat has made arrangements and after the funeral, Dylan finds herself on a road trip across the Australian outback with him, as he tries to keep his job as a beer marketer while battling a gambling addiction.
Dylan has a strong connection with water and is convinced water will help her take her mother to Paris. She tries to run off to find the water, and causes increasing trouble for Pat, including being arrested. Each lost in their grief, Dylan and Pat begin to understand one another. But when they arrive at their destination, Dylan feels betrayed. Pat has brought her to her only remaining family – the grandfather, aunties, and cousins she has never known from her father's side. Pat has brought her to the coast – to the water she has craved, and to people whose skin is like hers, but as a grieving teen, with a unique way of seeing the world and an uncanny ability to see things beyond her reach, Dylan struggles to find her place and let go of her mother.
In Dylan, readers have the opportunity to feel and understand the experience of a mix-raced teen growing up in a predominantly white area of Australia. While adored by her mother, the only person she knows with whom she shares a skin colour – her father – has left her with a lasting memory of domestic violence and a fear of her own skin. A fear that is slowly dissolved by the tender care of her paternal grandfather and the companionship of her young mute cousin, Joni.
Told in the compelling, original voice of 14-year-old Dylan, this is a gripping own-voices novel. Meandering through outback towns and a teenager's inner world, the story paints a raw picture of poverty and belonging, of grief and family, of domestic violence and addiction. Dylan is sometimes a six-year-old girl, sometimes a 40-year-old woman, profound one moment, hilarious the next.
Metal Fish, Falling Snow is a captivating and unforgettable debut novel. Having received a Victorian Premier's Literary Award, longlisted for the Stella Prize and shortlisted in a number of other awards, including being shortlisted in the CBCA Book of the Year Awards for Older Readers, it is sure to connect with readers 14+.
Teacher notes are available on the Text Publishing website.
Highly recommended.
Review by Pamela Ueckerman