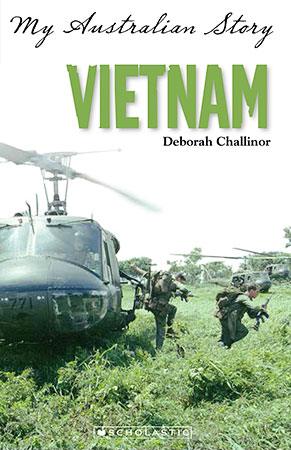 Deborah Challinor, Vietnam (My Australian Story),  Scholastic Australia, July 2015,  $16.99 (pbk),  254pp., ISBN 978 1 74362 800 3
Davey, Pete and Johnno are best friends. Pete is clever, Davey is average, Johnno is bad at schoolwork but good at fixing things. They live in Newcastle, and they love surfing and rock'n'roll. In diary format, Davey Walker tells the story of two years in their lives, 1968 to 1970, the years when Davey's brother, Tom, is sent to Vietnam. Davey's Dad served in World War II, and is proud of Tom; Mum, angry about the war and worried for Tom, joins the protest movement.
Davey's diary keeps the reader aware of what is happening in the world around the Walker family – Hair is showing in Sydney, Mick Jagger and Marianne Faithful arrive to film Ned Kelly, the Eagle module, with Neil Armstrong aboard, lands on the moon. Davey keeps us up to date on the latest top of the pops.
In his letters from Vietnam Tom describes what the Australian troops are called on to do, and it's not what Tom expects. He is confused about who the enemy is, and his mates are the only reliable aspect of what is happening. Davey is also confused. He understands it all better when his school teacher explains what the source of the war is, what the domino theory is, why the protestors are calling for a moritorium.
Challinor offers an even-handed account of the Australian experience during the years she covers. She is with Tom in the heat and sweat of Nui Dat and the sleasy streets of Vung Tau. She is with Margaret, Davey's Mum as she participates in Save Our Sons, and pushes off the police in the protests through Sydney. She enables us to feel for Davey as he loses his dear friend and sees his damaged brother. She can also make us laugh at Dad's wit as well as his frustration, always through the eyes of Davey.
This is a very good book about a family and a neighbourhood living through the late sixties, a period that changed our world forever. It is pacey, funny and sad, written with gusto and empathy.
reviewed by Stella Lees