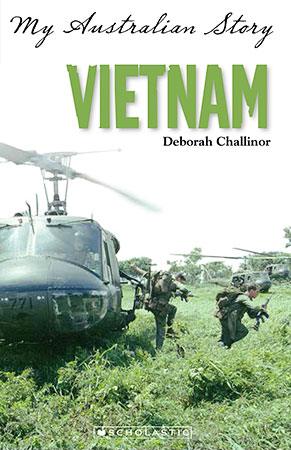 Deborah Challinor, Vietnam (My Australian Story),  Scholastic Australia, July 2015,  $16.99 (pbk),  254pp., ISBN 978 1 74362 800 3
Vietnam is another novel in the wonderful series of My Australian Story. I don't care what age group they are aimed at (probably 10-14), I have borrowed every title I can lay my hands on for some years as I think they are a fantastic way to learn about history.
Vietnam is set between 1968 and 1970.  Main character is Davey, who is about to turn 12 at the beginning of the novel, leads and idyllic life.  His passions revolve around surfing and the current music scene. But life becomes much less idyllic when his older brother Tom is drafted and sent to Vietnam.
General themes covered in Vietnam include: heavy drinking; men avoiding the expression of their feelings; grief and fear and dealing with permanent injuries.  1960s beliefs about war are also explored, including the Domino Theory (if communists take over one country nearby – they will eventually take over others); the glory of war and family traditions of fighting for your country; and whether protesting against the war makes you a hippy.
That said, Vietnam is not a morbid book. The characters are plucky and always attempt to 'soldier on' no matter how awful their day to day lives have become. Challinor has also made sure that Davey's home setting and the language he uses is accurate for the 60s, which helped make Vietnam the bonzer book that it is.
Reviewed by Katy Gerner