Ailsa Wild (text) Aviva Reed (illus.) Dr. Gregory Crocetti and Briony Barr (creators) Zobi and the Zoox (Small Friends #2),  Scale Free Network, 2014,  44pp; $19.95 (pbk) ISBN 9780992587215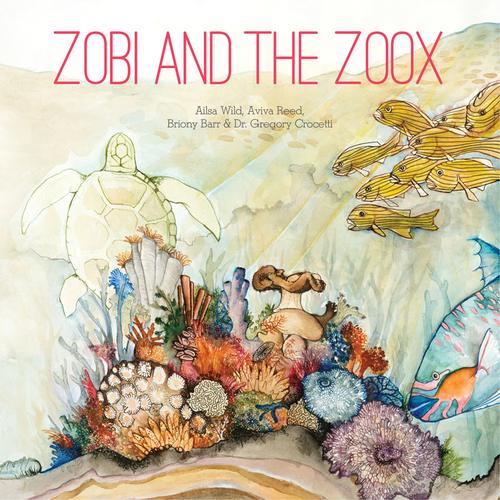 Zobi and the Zoox is the second book in the Scale Free Network's Small Friends series. Like the first title (The Squid, the Vibrio & the Moon), it focuses on the microscopic world, promoting the idea that 'cooperation is a dominant paradigm of nature'.
Zobi and the Zoox is divided into two main sections. A fictional story, set on the Great Barrier Reef, is followed by detailed, factual pages highlighting aspects of life on coral reefs. The story features a range of organisms—Zobi, the ammonia-generating Rhizobia bacterium; Cy, a Cyanobacteria chain; Dini and Zoox, each a type of marine plankton; and Darian, a coral polyp. The narrative, centring on the lifecycle of the  polyp, starts with a helpful scaling visual—a series of images, beginning with the sun, zoom down through the Earth, an ocean and a coral reef until the six-millimetre Darian appears within a cluster of coral polyps.
By explaining the relationship between Darian and the bacteria living in his gut, the story offers a microscopic view of the impacts of changes in climate. When any one element in a reef's system changes (in this case, the temperature of the water), the effects are felt throughout the ecosystem. In Zobi and the Zoox, the marine plankton work hard to create sugar, enabling Zobi to generate ammonia. This, in turn, preserves the life of the struggling coral polyp. (The possibility of an adverse outcome resulting from rising temperatures is effectively revealed in the sub-story of 'Old Pora'—a skeletal coral colony, starved during a previous period of sustained heat stress.)
Aviva Reed's wonderfully liquid illustrations infuse the microbial world with life, colour and a sense of movement; they clearly communicate the complexities of an interconnected and interdependent ecosystem.
Zobi and the Zoox featured in the 2015 Wilderness Society's Environment Award for Children's Literature—it was shortlisted in the Picture Fiction category and it won an inaugural Children's Choice Puggle Award. The book is also nominated in the '8‒10 years' category of Speech Pathology Australia's 2015 Book of the Year Awards.
Further information about the Scale Free Network and its projects is available on the network's website. The web page for Zobi and the Zoox includes teaching notes with quizzes, activities and curriculum links. The book is well-suited to Year 4 science lessons on the dependency of living things 'on each other and the environment to survive' (ACSSU073) and Reed's illustrations lend themselves to discussions on visual conventions and techniques with middle and upper-primary classes.
Recommended for readers aged 8+ (or 5+ with an adult)
Downloadable Teacher notes are available from the CSIRO website
reviewed by Tessa Wooldridge