Andy Jones (text) and Olaf Falafel (illustrator), Unleash Your Creative Monster: A Children's Guide to Writing, Walker Books, September 2021, 176 pp., RRP $24.99 (pbk), ISBN 9781406396621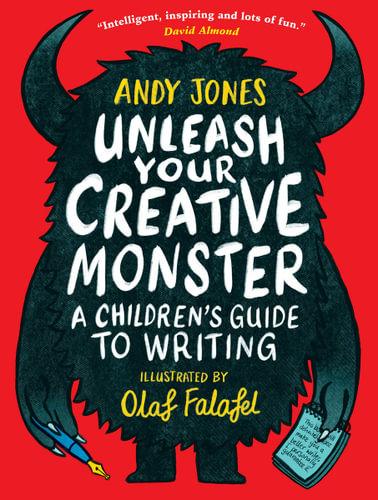 Described as a funny and informative guide to creative writing, Unleash Your Creative Monster: A Children's Guide to Writing is a wonderful and practical guide written to encourage primary school age children interested in creative writing.
Written by Andy Jones, an Australian author and illustrated by Olaf Falafel (awesome pseudonym alert) this tome provides the essentials for young writers and/or new writers wishing to improve their skills. It is clear from the writing that Jones has a passion for writing, helping others to discover their creative moster, and ultimately find joy in written expression. The book was written with help from his daughters which improves its relatability.
The text is broken into four sections (training your creative monster, monster mistakes, when your monster gets stuck and feeding your creative monster) that cover the basics of creative writing. These sections are colour-coded to aid navigation. Other helpful features include an index, call out boxes to explain jargon or unfamiliar words, and a seemingly unending series of story prompts. The story prompts provide opportunities to practice and cement the skills, tricks and techniques covered in each section.
The text is heavily decorated with quirky and diverting illustrations. Drawn in a comic style with a simple colour palette the illustrations support and enhance the text. If readers don't find inspiration in the story prompts they're sure to find it in the monsters who adorn every page.
Speaking of inspiration, this book would be an extremely useful resourse for beginning a writer's circle in a primary school setting.
One of the most pleasing things about this book is that the skills, tricks and techniques covered in the text are exactly what I have witnessed being taught in adult writing workshops. For example, developing a writing habit, using show don't tell to build emotion in your writing, and planning your writing. The text does not condescend to the audience, nor is it filled with 'shoulds' and 'oughts'. Instead it inspires and encourages.
Reviewed by Anne Varnes