Matt Stanton, Funny Kid Prank Ninjas, HarperCollins Publishers, September 2021, 288 pp., RRP $14.99 (pbk), ISBN 9780733340628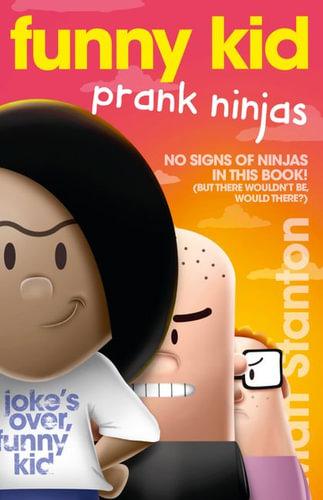 I was thrilled to find Prank Ninjas, the 10th book in the Funny Kid series by popular author Matt Stanton, in my pack of books to review. This series is constantly on loan from the library and I was keen to find out why they're so popular.
The story is told "tongue in cheek" in the voice of Max Walburt (Funny Kid) who considers himself to be an expert prankster – or prank ninja, in his words. Max is pre-occupied with a prank war against his former friends, especially nemesis Abby. But most of his efforts to out-prank Abby backfire or she outwits him, with hilarious and slapstick consequences. As the prank war intensifies, Abby's pranks become extraordinarily elaborate. What is going on?
Some of the ideas for pranks are impressive in their originality and much of the humour is subtle and clever, such as ironic remarks, misunderstandings of idioms and play on word double meanings. There is also a good deal of fast paced slapstick and some grossness and toilet humour too, which many kids enjoy.
In Funny Kid Prank Ninjas, Stanton has created an imagined world in which kids get away with outrageously irreverent, rambunctious, and disruptive behaviour, unconcerned by angry authority figures, who are objects of ridicule. In the tradition of comics and cartoons, the slapstick mayhem has only minor consequences. The book has all the elements of an entertaining and amusing read – fast paced action, humour, and an unexpected twist in the ending.
Stanton's cartoon style images with bold outlines and large expressive faces, out of proportion to bodies, are boisterous and playful. They reminded me of Charlie Brown comics.
With illustrations scattered throughout the text and plenty of dialogue and short sentences, the book is easy to read. The content is also of interest to a wide age range in the primary school years. This makes it an excellent option for older, reluctant readers and newly confident, younger readers.
Reviewed by Barbara Swartz