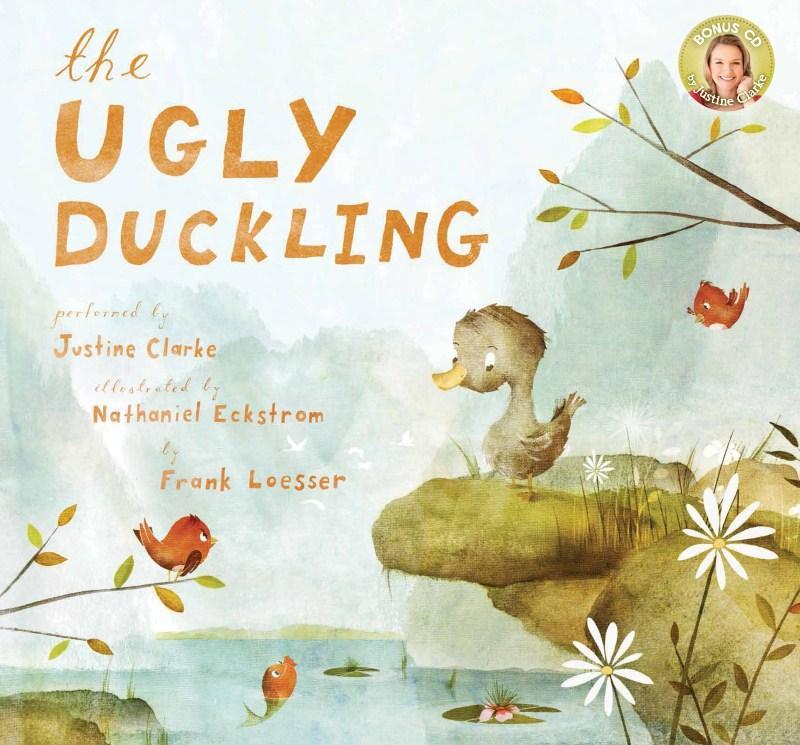 LOESSER, Frank (text) Nathaniel Eckstrom (illus.) Justine Clarke (performer) The Ugly Duckling Scholastic, unpaged $24.99+CD ISBN 9781742836447 SCIS
This is obviously a book to accompany the CD that on the cover is advertised as a 'Bonus'.  The words, then, are supposed to be sung: 'There once was an ugly duckling, With feathers all stubby and brown, And the other birds, in so many words, said, Get out of town!  Get out!  Get out!  Get out!  Get out of town!' This is very much a novelty production – the sort of thing that belongs to a television program for nursery tots.  The words are tuneful, even to tone-deaf adults, and are easily memorized as they bounce along.  Here, then, is a take on Hans Christian Andersen's The Ugly Duckling.  The cheeky illustrations, that paint marvelous expressions on the faces of the duckling, and each of the other creatures, are visually appealing.  So here is a production meant unashamedly for today's mass market – and as such it has much to recommend it.
From a literary point of view, however, one might well ask whether children need to have Andersen's enduring tale bowdlerized.  Generations have been nourished and comforted by the timeless tales of that genius of storytellers: Hans Christian Andersen, who saw himself as the metaphoric ugly duckling.  Even as a swan he was aware of his imperfections; but was able to rise above them.  That is what literature can do: widen self-perceptions rather than providing mere entertainment.  Maybe one should not preclude the other: but let us not deprive young readers of lasting fragments of great world literature.
reviewed by Maurice Saxby