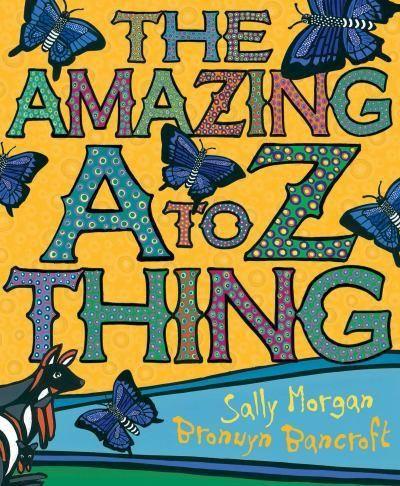 MORGAN, Sally (text) Bronwyn Bancroft (illus.) The Amazing A to Z Thing Little Hare, 2014 unpaged $24.95 ISBN 9781921894190 SCIS 1657436
This deceptively simple A to Z book is extraordinarily brilliant.  A book to enjoy, to encourage the love of reading, and provide the skills to read as well – what an amazing package!  Anteater attempts to share an amazing 'thing' with an A to Z assortment of Australian critters, all of whom show disinterest until the twist at the end.
In Morgan's engaging story, children will identify with the desire to share something special, only to be met by indifference, and enjoy the satisfying ending.  The intrigue to discover what the 'thing' is will sustain the readers through a whole alphabet of animals, as the ever increasing list of emotions attributed to this 'thing' add to a mounting sense of excitement.  Each page will have adults and children alike guessing what creature comes next – with some surprises that may lead to further research about our Australian wildlife.  The carefully designed placement of words and highlighting of font add another level of engagement.
The front of the book is lovely and tactile with glossy illustrations on a mat background.  Inside, every page bursts with a kaleidoscope of colour with Bancroft's indigenous styled artwork in vibrant acrylic paint.  Add a particularly appealing echidna on each page and you have a book that will delight all children and engage indigenous children in a very special way.  This is a very rewarding book – the more you look, the more you find.  It will be a remarkable tool for indigenous literacy, will delight all children from pre-school to primary school and their parents, and is a 'must have' for every library in Australia, especially in schools.
reviewed by Debra Tidball