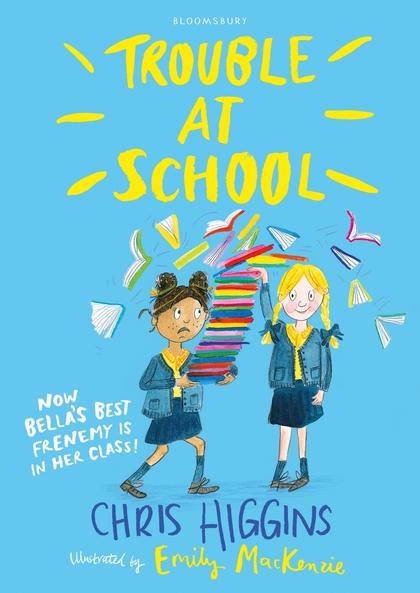 Chris Higgins (text), Emily MacKenzie (illus.), Trouble at School, Bloomsbury Australia, 1 March 2018, 160pp., $8.99 (pbk), ISBN: 9781408868850
Trouble at School is a lively, fast-paced middle school chapter book. The central character, Bella, has a tricky problem. She likes her friend Magda very much, but Magda has a tendency to cause trouble. A lot of trouble. Bella is a conscientious student, and she wants to make a good impression in her first week at a new school, but Magda's well-meaning efforts to help her and to be a good friend tend to end up in chaos. When Magda offers to cook pancakes for breakfast because Bella's father is too busy, the entire kitchen and everyone in it end up covered in flour and milk.
To add to Bella's problems, her teacher is an ex-army officer who runs a very tight classroom. Bella starts to find herself regularly getting in trouble, even though none of it is her fault. And the two queen bees of the class, Claudia Cleverly and Hetty Snoop, are quick to take advantage of anything that will put Bella in a bad light, including marking her spelling test results wrong so she won't get a higher mark than Claudia. When a substitute teacher takes their class for the day, it looks like Claudia and Hetty will again sabotage Bella and her best friend, but thanks to Magda's quick thinking the outcome is completely different.
This is a funny story filled with humorous pictures. It has a good gender and racial balance in terms of characters and the central protagonists, Bella and Magda, are delightfully quirky. The theme of accepting friends regardless of their faults is tackled with humour and gentle compassion. Bella comes to a real appreciation of Magda, and despite a bad start soon finds herself happy at her new school with new friends.  The book is an easy read and with its crazy teachers, chaotic events and familiar setting, kids will find a lot to relate to and enjoy.
Reviewed by Rachel Le Rossignol