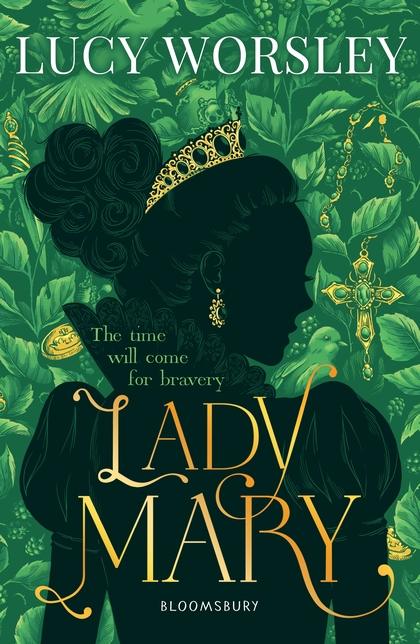 Lucy Worsley,  Lady Mary, Bloomsbury Australia, 1 June 2018, 384pp., $12.99 (pbk), ISBN 9781408869444
Perhaps the most famous divorce in history and certainly one which had far-reaching consequences was that of Henry VIII and Catherine of Aragon.  Henry wanted a son to inherit the throne and Catherine had borne him only a daughter, Mary.  The Pope would not allow the divorce – or an annulment – and so Henry went ahead anyway resulting in the split from Rome and the Catholic Church and the establishment of a new branch of Christianity in England. History has related a great deal about the feelings and wishes of Henry and the resistance of Catherine and her adherence to her faith but little has been written about the effects of all this turmoil on their daughter, Mary.
This book addresses that, albeit in a fictional way. We follow Mary from age 9 when the strains in her parents' marriage are beginning to show through the divorce and Henry's remarriage first to Anne Boleyn and then to Jane Seymour. At the end of the book Mary is twenty-one.
The author, Lucy Worsley, who is Chief Curator at Historic Palaces in the UK, has a great deal of sympathy for Mary and believes her to have been a good queen, rather better than much of history has painted her. Her sympathy for Mary is clear as she prtrays Mary as a bewildered young girl and later a lonely and confused young woman. She is separated from her mother in a brutal way and she loves her father and wishes she could spend more time with him. She does not want to sign the new succession document which would give precedence to her baby sister Elizabeth and render herself illegitimate. She is held a virtual prisoner in Hatfield with attempts to escape thwarted. It is only with the downfall of Anne Boleyn that some normality returns to her life. She is, however, shocked by her father's marriage to Jane Seymour who is so young and Mary is very upset by the death of the young queen. She attends the christening of her new half-brother, Edward, who becomes the heir to the throne by virtue of his gender.
Unlike in the portraits one is used to seeing of her, Mary becomes a realistic figure in the hands of the author and the reader's sympathies are with her. The manipulation by key figures in the court, such as Thomas Cromwell, makes her life and those closest to her dangerous. Most of those servants and courtiers who are loyal are removed and Mary has almost no-one whom she can trust. Her position as the king's eldest child is no protection. The dialogue although, of course, imaginary, is realistic and convincing. The sense of place is well-developed and one can easily imagine the bleak houses in which Mary is confined and the landscape is a very important part of the action.
Mary's predicament, caught between two warring parents, having to adjust to new places to live, to not one, but two stepmothers, coping with her mother's death and having even her schooling interrupted, is one which is mirrored in the lives of many young people today.
Historical notes are included at the end of the novel.
Even those readers who don't know much about Tudor history will find this a fascinating book.  I rather think that, after reading it, their appetites will be whetted to find out more.
Reviewed by Margot Hillel