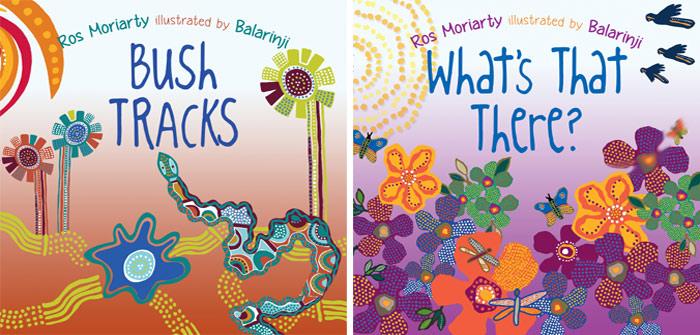 Ros Moriarty (text), Balarinji Design Studio (illus.),  What's That There?, Allen & Unwin, 24 April 2018, 24pp., $12.99 (pbk), ISBN 9781760297817
Ros Moriarty (text), Balarinji Design Studio (illus.),  Bush Tracks, Allen & Unwin, 24 April 2018, 24pp., $12.99 (pbk), ISBN 9781760297824
These two smaller format paperbacks feature illustrations by Balarinji, a highly acclaimed Indigenous design studio.  Both books are wonderful celebrations of country while providing valuable insights into Aboriginal culture. They include appendices of a Yanyuwa language version of the text, a language spoken by Aboriginal families in Borroloola, NT.
What's That There? uses a series of full-page illustrations to depict various landforms (such as water holes and ridges) and vegetation (such as tussocks and grasses). As these colourful drawings employ Aboriginal motifs, some very young children unfamiliar with the style may need assistance to identify some details, though the flowers and berries are easily recognizable.  Each area is depicted from above, introduced by various aerial creatures including a sea eagle, hawk and dragon fly.
Bush Tracks is more a narrative, following a track across country to coastal hunting grounds.  The journey entails wading through a billabong, navigating by the stars and checking tides by the phases of the moon and much else.  There are warnings about crocodiles and snakes and sheltering from lightning.  Suitable for ages 3-7.
Reviewed by Elizabeth Douglas