Sibéal Pounder, Tinsel, Bloomsbury, November 2020, 305 pp., RRP $17.99 (hbk), ISBN 9781526619273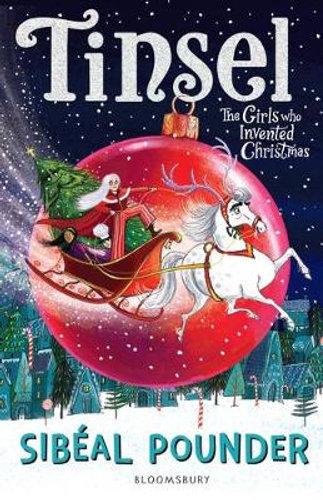 If you're anything like me and you cannot wait to see 2020 end, you'll be on pins and needles for Christmas this year, and eagerly awaiting every little sign that the season is upon us.
Then I feel confident saying you're going to adore Tinsel, the new book from Sibéal Pounder. And if you're not a Christmas fan, but you are a fan of the power of female friendships, coupled with a clever and humorous tale of how Christmas really came to be, then you're going to love this!
I couldn't stop smiling once I started reading this. Tinsel introduces us to Blanche Claus, an orphan living on the streets of London who doesn't believe in Christmas. She actually just counts down to its end every year. Until one year an old woman gives Blanche a Christmas bauble, within which she sees the most impossible scene – involving a dancing Christmas tree. The bauble is the beginning of so many changes for her, including meeting Rinki, who is an orphan too, but who won't let anything stop her from enjoying Christmas.
They become fast friends, but one day, Rinki disappears and Blanche keeps looking for her for five years. When she does find Rinki, her friend is living in a wonderful house with Teddy and Captain Garland, the couple who adopted her. So begins a wonderful time for Blanche, reunited with her friend. Together, they think up a wonderful plan to give presents to the children of the world, to help them feel like there's magic out there – much like Blanche felt the first time she got her bauble.
But soon, things go sideways when her secret identity – that is a girl, working as a carter and doing better than all the boys – is revealed by Rinki's neighbour, Mr Krampus. Blanche finds herself on a ship, with a marvelous boy called Santa, whose mince pies are delicious, and a fairy called Carol, who lives in Carolburg, in the North Pole, where every fairy is called Carol. And where, when they're in the cold, become elves.
That's just a taste of the cleverness of this book. But ultimately, the heart of all these clever Christmas moments, is Blanche and Rinki's relationship.
Forged because they are orphans, Rinki's optimism is infectious, allowing Blanche to imagine things she never thought possible. Theirs is a type of friendship that survives distance and time, and yet when they get together it's as if they haven't been separated. They adore each other, and complement each other, but more than that they respect who the other is and what they need. It would be so easy for Blanche to go live with Rinki in her big house, but Blanche is determined to forge her own path in the world. Rinki figures out a way how to help her and respect her life choices.
Yes, this is a feminist tale, putting the girls and their friendship at the heart of Christmas. Both are resourceful, determined young women caught up in a world that doesn't really think girls can do anything – but these two do it anyway. That is the story you want your girls and your boys to read.
In Carolburg, Blanche finds herself a home, and with the help of the Carol-elves begins to develop a way to make her and Rinki's plan come true – to give presents to every child in the world. So begins their planning and training to accomplish this. And here, Pounder gives flight to her imagination and the Carol-elves who help Blanche make her wildest dream a reality.
However, Mr Krampus is still someone she has to deal with. Thankfully, having Rinki in London helps.
I don't think a review can give the glorious humour, heart and friendship justice – not to mention the very clever story of how Christmas might have come to be.
Reviewed by Verushka Byrow