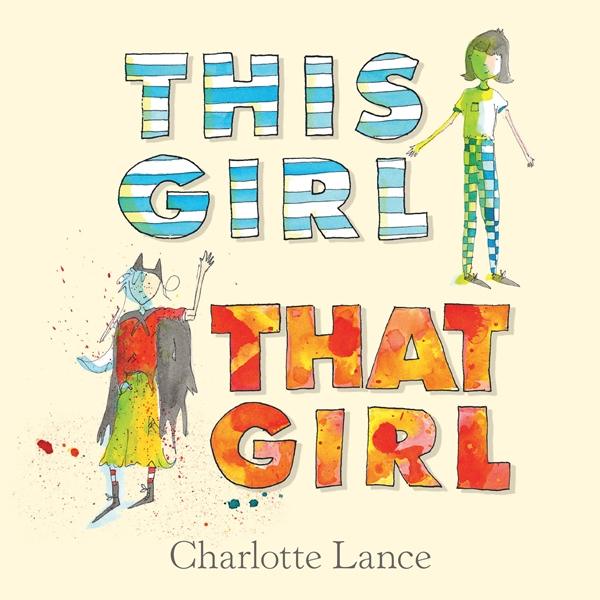 Charlotte Lance, This Girl, That Girl, Allen & Unwin, June 2016, 32pp.,  $24.99 (hbk), ISBN 9781760291709
This picture book is a celebration of differences. Two unnamed girls are the main characters, both very different to each other in what and how they do things. Not only are the girls different to each other, their fathers are also different, with each father very much like the other girl. This is not expressed in the sparse, well-worked verbal text but in the clean, bright and airy illustrations. This girl is neat and tidy, dressed in checkered trousers and white t-shirt, while that girl is dressed in a multi-coloured outfit with a cape and hat with bat ears. They are visually very different. The colour scheme for each girl is used throughout, with cool colours, neatness and order for this type of girl, house and father and warm colours and randomly placed objects for that type of girl, house and father. As the collaborative text of both pictures and words progress, this and that eventually combine and the reader must ask, are they really that different? The colour scheme and theme of difference is reflected in the varied end papers.
This picture book requires close, multiple readings. There is much to view and the collaboration of written and visual texts is exquisitely authentic. I see something different each time I read it and have a feeling this will continue for many more readings.  This picture book not only explores the theme of differences in a subtle and original way, but is also a wonderful picture book in the true sense of the word.
Reviewed by Liz Derouet