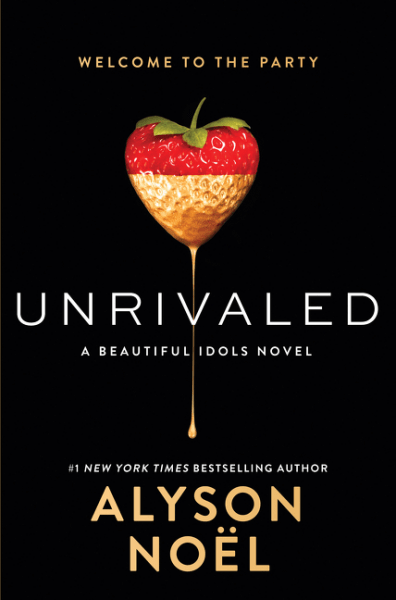 Alyson Noel, Unrivaled (Beautiful Idols #1), HarperCollins Australia,  11 May 2016, 420pp., $19.99 (pbk), ISBN 9780062496744
Madison Brooks is an eighteen-year-old starlet. Rich and successful, the reader discovers early that she is also mysterious. The past she has created for her adoring fans is not what it seems. Nor is the relationship between her and her boyfriend, young TV star Ryan Hawthorne.
Nightclub owner Ira Redman has devised a competition for young hopefuls to become a promoter. They earn points through 'gets', the number of visits paid by the youngest, hottest and most famous guests. The ultimate prize is money, but there are other benefits. Each week the promoters with the least points are eliminated and Ira makes it clear from the start that the rules can change on a whim. Of the contestants three become main characters. Layla, a blogger and aspiring journalist, who wants the prize money to go to journalism school in New York; Tommy, an aspiring musician, and Ira's abandoned son, and Aster, the daughter of very rich yet controlling parents. While she does not need the money she sees the competition as a chance to boost her acting career.  The competitors are pitted against each other from the start and begin to accumulate their 'gets', all to varying degrees of success. Aster becomes involved with Ryan after a chance meeting and rivalries are fierce, until Madison disappears. Aster, Tommy and Layla unite to work together, as they can all be implicated in some way.
At over 420 pages this book needs to keep its audience's attention, and it does that well. I found it hard to put down, with its strong plot and well-written characters. At first some of the characters and their world appear superficial and shallow, however Noel has woven their lives into an intricate web of intrigue. Song titles and lyrics are linked throughout in chapter titles, reflecting the narrative and characters involved. The ending is a cliffhanger leaving the reader with many unanswered questions. The first book in the Beautiful Idols trilogy, this will be a popular read for fans of the teen chick-lit and thriller/suspense genres.
Reviewed by Liz Derouet