Felice Arena, The Unstoppable Flying Flannagan, Penguin Random House Australia, March 2022, 192 pp., RRP $16.99 (pbk), ISBN 9781761044366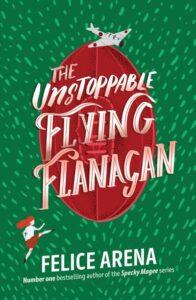 Its 1942 and World War II is raging. Until now it's all seemed a long way away for Maggie Flanagan, despite the fact that her older brother Patrick is now fighting for the Royal Australian Airforce. But then Maggie spots what she thinks is a Japanese spy plane above her home in St Kilda early one morning, Darwin and Broome are bombed, and American soldiers start appearing on the streets of Melbourne and it all becomes a lot more real.
What has also become more real is the fact that women are now doing 'men's work' because many of the fathers, husbands, sons, and brothers have gone to war. Women are also discovering that there are other previously male dominated domains that they can also be good at. A mad footy fan, Maggie is initially howled down when she suggests a girl's charity footy match, to raise money for the troops, as un lady-like but slowly and quietly the idea gains momentum.
Well-paced with a likeable, passionate protagonist and her idiosyncratic friends, Felice Arena has created a wonderful role model in the character of Maggie, introducing young readers to some interesting historical aspects of the Second World War as experienced by those who remained at home as well as exposing the inward looking, racist attitudes and culture that existed in the Australia of the time.
Great for home or school library. Suitable for readers 9+ years.
Reviewed by Mem Capp