Louie Stowell, Loki, A Bad God's Guide to Being Good, Walker Books, February 2022, 240 pp., RRP $19.95 (pbk), ISBN 9781406399752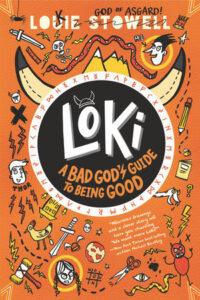 Loki, God of mischief, has gone too far this time: cutting the hair of the Goddess Sif has resulted in Odin banishing Loki to Midgard (Earth) in the form of an 11-year-old boy. Odin has declared that Loki has thirty days to prove that he has undergone "moral improvement", otherwise he will face an eternity of punishment involving snakes. Odin has also sent Thor — disguised as Loki's more handsome twin brother — to keep an eye on him at school as well as Heimdall and Hyrrokkin to pose as Loki and Thor's parents and offer moral guidance.
In order to prove his moral improvement, Loki must write daily in a diary provided by Odin–a diary with an attitude and a magical score system. The diary calls out Loki's lies and tries to keep him in check. Of course, being good is not something that Loki is good at and he's got a lot going on–he's adjusting to life as a mortal boy, going to school and having a perfect brother whose only failing is suspecting that there are Frost Giants everywhere he goes (and farting) so there are difficulties right from the start.
As the days tick by and Loki's score sinks further and further into negative numbers, he becomes desperate to avoid an eternity with snakes and decides to do a good deed — to donate a large amount of money. But his plan to obtain such money could be worse than the original crime and result in further deductions to his score, with no chance of bouncing back. He needs to start listening to the little voice in his head, which the diary happens to agree with.
Told in a diary format with doodles and illustrations by the author, this is a fast-paced, whacky, laugh-out-loud hilarious novel by British author Louie Stowell. Readers will love the references to Norse mythology and may be prompted to learn more, and they will certainly relate to Loki's experience as a school-going tween in the twenty-first century.
In 2022, we all need a dose of laughter–children especially–and Loki delivers this in spades. Aimed at older children (9-12 years), Loki makes for a fun, light read and is fantastic for reluctant readers.
Reviewed by Pamela Ueckerman