Adam Cece, The Unbelievably Scary Thing That Happened in Huggabie Falls, Text Publishing, October 2018, 224 pp., RRP $14.99 (pbk), ISBN 9781925773019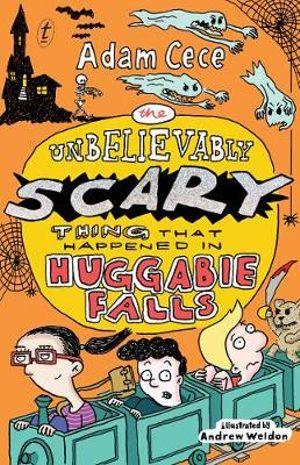 Kipp Kindle, Tobias Treachery and Cymphany Chan are back in their second adventure in the whimsical, wonderfully weird and wacky town of Huggabie Falls.
This time the town is not so much weird as unbelievably scary, as a top-hatted scientist tries to scare the residents of Huggabie Falls out of their wits and out of town. Featuring a cast of unique characters including a Brussels sprout with a terrible Scottish accent that enjoys hurling grand pianos, an alpaca-riding teddy bear and vacuum cleaner salespeople, The Unbelievably Scary Thing that Happened in Huggabie Falls by Adam Cece, will keep you entertained, amused and turning pages at light speed.
Fortunately this sequel has not gone the way of most sequels — I think it's even better than the first book, which I loved too and wrote a review for here. In this book, the plot was tighter and the asides more calculated, so they built on earlier jokes, but the amazing mix of silliness and creativity remained. Cece has built on his world of Huggabie Falls making it at once recognisable and familiar while continuing to celebrate all forms of weirdness.
The black-line illustrations by Andrew Weldon add to the book's comic value and help bring the story to life. There is just the right amount, drawn in just the right tone.
My 9-year-old son saw me reading this book and decided to try it himself. He couldn't put it down and when I asked what he liked most about it, his answer was not typical but also not wholly unexpected. 'I like how the author goes off track, it's funny and interesting.' This was not unexpected because my son likes a tangent more than most people, but it also highlights the many hilarious asides in the book that are truly memorable and entertaining. Cece manages to go off tangent just enough for his true comic brilliance to shine, but not so much that the plot becomes a jelly mess.
Boys and girls both, will devour this book. They will gobble down its wittiness, embrace its weirdness and inhale the fast-paced story telling. I dare anyone to read this book and not laugh out loud.
A wonderfully clever, well-written book for children aged 8 – 12. Kids who love David Walliams, Andy Griffiths and Morris Gleitzman will adore it. But it's actually pretty genius, and I wouldn't hesitate to recommend it to anyone.
Reviewed by Renee Mihulka