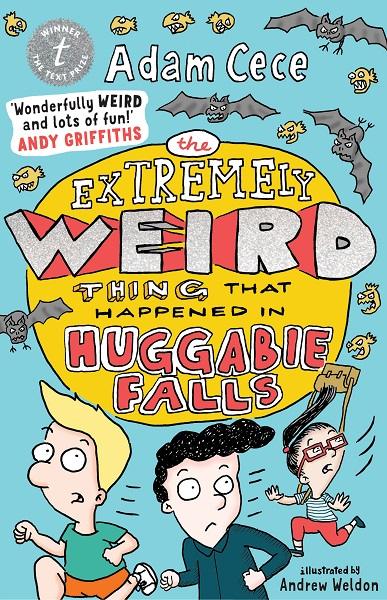 Adam Cece (text),  Andrew Weldon (illus.), The Extremely Weird Thing That Happened at Huggabie Falls (The Huggabie Falls Trilogy #1),  Text, 2 April 2018, 288pp.,  $14.99 (pbk),  ISBN: 9781925603484
Kipp Kindle, Tobias Treachery and Cymphany Chan live in Huggabie Falls — the weirdest town on Earth. It's so weird that a witch for a teacher, vampire bats, vegetarian piranhas and a kid who only eats french fries, barely raises an eyebrow from inhabitants. But then something extremely weird happens, throwing the town into disarray, and Kipp, Tobias and Cymphany suddenly face changes they never expected, and only half thought they wanted.
Australian author Adam Cece won the Text prize for this novel. The pages are packed with fun and action, and Cece manages to balance on the edge of clever-silliness without tipping over into the ridiculous — a hard path to weave. He also manages to disguise a few deeper messages within his story which elevates it and makes the journey more satisfying. The illustrations by Andrew Weldon add another layer of fun to the book too.
The three main characters, Kipp, Tobias and Cymphany are well drawn and interesting, but it's the narrator of the story that steals the show with his segues and hilarious observations. He lends a strong, unique voice to the tale and his take on things had me laughing out loud and turning the pages at warp-speed.
I also loved the action in this book and the inventive ways Kipp, Tobias and Cymphany managed to extract themselves from imminent doom! More than once I was on the edge of my seat and more than once I was surprised at the twists the story took.
I highly recommend this book. It's a laugh out loud, quirky, rollicking read that kids aged 8 – 12, boys and girls alike, will adore, especially those that love David Walliams and Andy Griffiths.
Reviewed by Renee Mihulka