Sally Odgers (text), and Adele K Thomas (illustrator), The Proper Unicorn (Pearl #3), Scholastic Australia, February 2019, 128 pp., RRP $12.99 (pbk), ISBN 9781760661854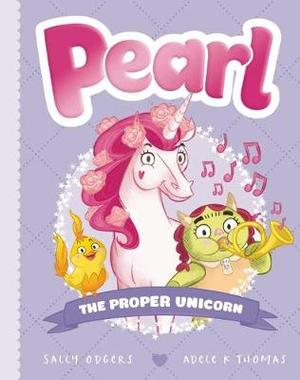 This is such a pretty book, thoughtfully designed to appeal to young readers who are gaining confidence with early chapter books. The font is large, with key words playfully highlighted in hot pink, the pages are edged with a pink scalloped border and the chapters are broken up with a full hot pink page printed with hearts. Melbourne illustrator Adele Thomas has created fun black, white and pink illustrations for every page that girls particularly will love. There are pink rainbows, pink butterflies and pink roses falling from the sky.
The story is sweet too, with lovely messages about friendship, teamwork and being true to yourself. It's divided into seven bite-sized chapters and Tasmanian author Sally Odgers has included a good sprinkling of alliteration and repeated onomatopoeia when Pearl the unicorn swishes and stamps to make magic.
Pearl wants to get better at making magic and, while she's practicing, she meets another unicorn, Prince Percy. He seems perfect, so Pearl tries to be just like him. Then the smelly gobble-uns take over the pond, filling it with mud and ruining the clean water. Someone has to stop them and Pearl thinks Prince Percy is perfect for the job. But is he really perfect?
Reviewed by Carissa Mason