Gareth Ward, The Thaumagician's Revenge (The Rise of the Remarkables #2), Walker Books Australia, July 2021, 352 pp., RRP $19.99 (pbk), ISBN 9781760652227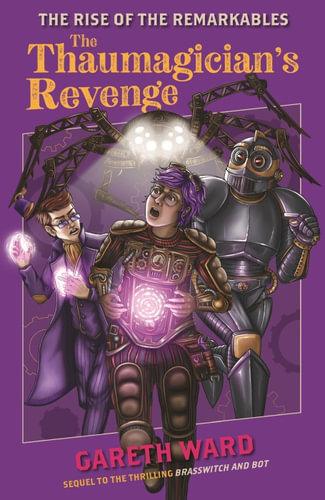 With her magic powers diminished by the Minster Schism, Brasswitch Wrench faces her biggest challenge yet. The Remarkable Rebellion is gaining ground and a vengeful Captain Flemington seeks to destroy Cabal Thirteen and put Wrench and her maverick mentor Bot before a Grand Cabal Inquisition. As time runs out, Wrench must discover how to rekindle her magic before the Autumn Equinox, or all will be lost.
The Thaumagician's Revenge is the second book in Gareth Ward's fast-paced steampunk adventure duology, "The Rise of the Remarkables". Filled to the brim with adventure, intrigue, magic, humour and imagination, this book is a real page-turner that lives up to every inch of the high expectations set by the first instalment.
Following on from the events of Brasswitch and Bot, we find our hero Wrench in the midst of a crisis – bereft of most of her magic abilities, how now will she prove to herself and to the world that she is worthy of a place in the ranks of Thirteen? A familiar struggle to define self and identity underpins Wrench's character arc, having learned in the first book not to fear her abilities but to embrace them, she must now look deeper inside herself to find what it is about her that makes her truly and uniquely remarkable.
Ward's narrative moves at a cracking pace, and the reader is never left yawning. His characters are genuine and heartfelt, and the reader cannot help but be drawn into their personal sagas, hopes and dreams. Through them we see ourselves at various stages, and Ward is to be congratulated for the empathy and spirit with which he has imbued his creations.
The book is ideal for readers aged ten and over and is sure to be voraciously read and re-read again and again. Hopefully this is not the last we will see of Brasswitch, Bot and friends!
Reviewed by Christian Price