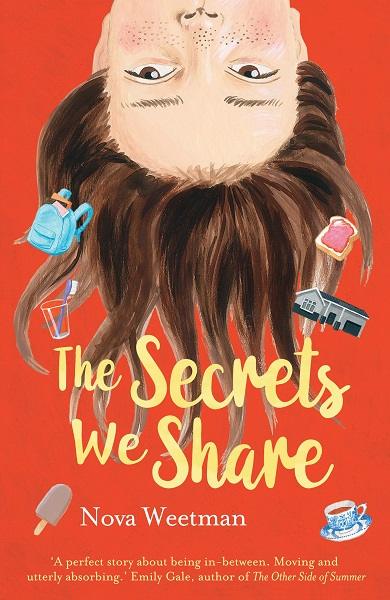 Nova Weetman, The Secrets We Share,  University of Qld Press,  30 Oct 2017, 240pp.,  $16.95 (pbk),  ISBN: 9780702259784
The Secrets We Share is the sequel to The Secrets We Keep which was on the 2017 CBCA Younger Reader Book of the Year Notable List.
This second book re-introduces the reader to Clem, a 12 year old with more than her fair share of worries.  Some of her concerns are typical for her age. She is nervous about starting high school and to make matters worse she feels jealous and left out after noticing the blossoming friendship between her two best friends.  When her jealousies and resentment get the better of her, she estranges herself from those two friends, resulting in her first weeks of high school being lonely. But she also has more serious worries – adapting to changes in the family since her home was burnt down, and worries about her mother's depression.  And then she does something foolish and the consequences are serious.
The story is told in Clem's voice which provides the reader with an insight into her motivations, inner thoughts and her strong feelings, as well as the difficulties she has in appropriately expressing those feelings. She approaches her struggles with humour and a feisty spirit. Consequently, her musings don't come across as melodramatic or self-indulgent.  I found myself empathising with Clem and absorbed in the story with concern that her problems would be resolved.  She is a likable, funny, and thoughtful character who is not without flaws.  The other characters are also well-developed, whole characters who have their faults and strengths, and the author provides insights too into their struggles, feelings and thoughts.
12-year-old girls will recognise themselves in some of Clem's struggles and some typical female pubescent "attitude" and moody behaviour.
This book is an engaging and well written story of specific interest to 11 or 12 year old girls. It is also a terrific read for anyone who enjoys a well written story about family, friends and learning from our mistakes.
Teachers' Notes can be found on the University of Qld Press website.
Reviewed by Barbara Swartz