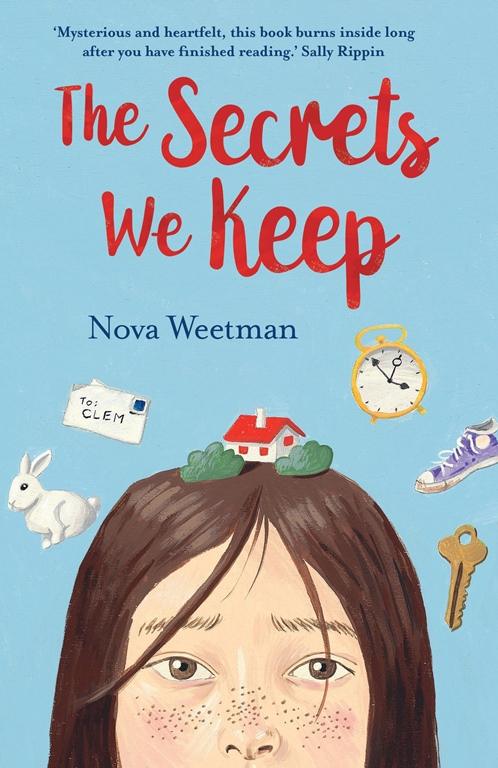 Nova Weetman, The Secrets We Keep, University of Queensland Press,  28 March 2016, 232pp., $16.95 (pbk),  ISBN: 9780702254215
When her family home burns down, Clem Timmins is forced to make a new start.  She has lost everything, except her dad.  Clem finds herself in a tiny flat in a new location with 'not enough' borrowed clothes to wear and life without her mum.  Worst of all, she must start at a new school.  She can't imagine how she will cope without her best friend, Bridge, until she makes friends with Ellie with whom Clem has a special connection – the loss of a mother.
Written in Clem's direct uncomplicated voice, this story is engaging right up to the very last paragraph.  We feel Clem's sorrow and sympathise with her desperation as she begins to realise that the coping mechanism she has adopted will eventually be the undoing of her new life.
This easy-to-read / hard-to-put-down book focusses on the uncertainty of the pre-teen world with its insecurities and shifting boundaries.  It is a place in which the search for identity and trust is not straightforward.  Weetman presents these raw awakenings with careful emotional restraint empowering the reader to make their own decisions about appropriate responses to situations, dealing with peer pressure and trusting those around us.
The Secrets We Keep is a well-paced and suspenseful story written about relationships – within families, with friends and teachers and on the sports field.  It is also about making wise decisions in a world where loss is overwhelming.  Nova Weetman quietly builds up the tension with expert skill without letting us in on the life-changing secret that Clem is hiding.  And it's a very big secret.
Reviewed by Jennifer Mors