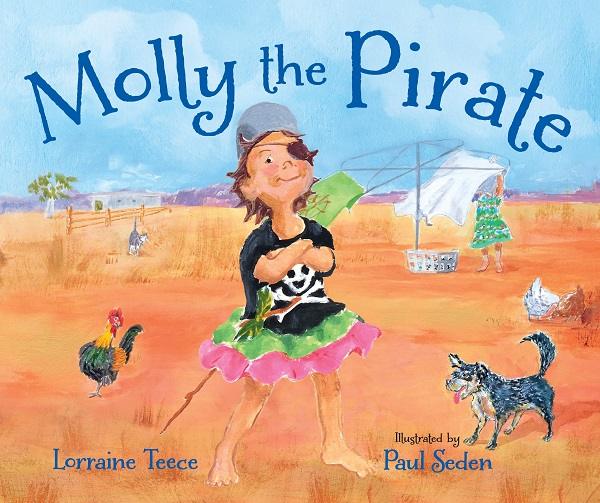 Lorraine Teece (text),  Paul Seden (illus.),  Molly the Pirate,  Magabala Books, Nov 2017,  32pp.,  $17.99 (pbk),  ISBN: 9781925360660
Molly the Pirate is the story of a little girl who transcends her ordinary home environment to enter an imagined world as a pirate. Molly is illustrated as a feisty tomboy in a rural red earthed setting.  She imagines sailing out to sea and taking on the pirate buccaneers who are depicted with the faces of the chickens and turkeys of her home environment.
Seden's lively illustrations portray the energy and humour of Molly's imagined antics.   She walks the plank, does back flips, dances a "jolly jig" and climbs the rig. The stern-faced pirate chickens are initially ready to attack, but are soon defeated by their own clumsiness.
The mundane objects of Molly's home environment are transformed into objects in her imaginings, thus making the connection between Molly's reality and her imagination.  The pirate ship resembles the washing basket, the choppy red sea resembles the red earth of her backyard, the clouds take on the shape of sea creatures, and the pet dog and cat are fellow seafarers.
Early childhood readers will enjoy this simple, amusing story of the pleasures of imaginary play.
Reviewed by Barbara Swartz