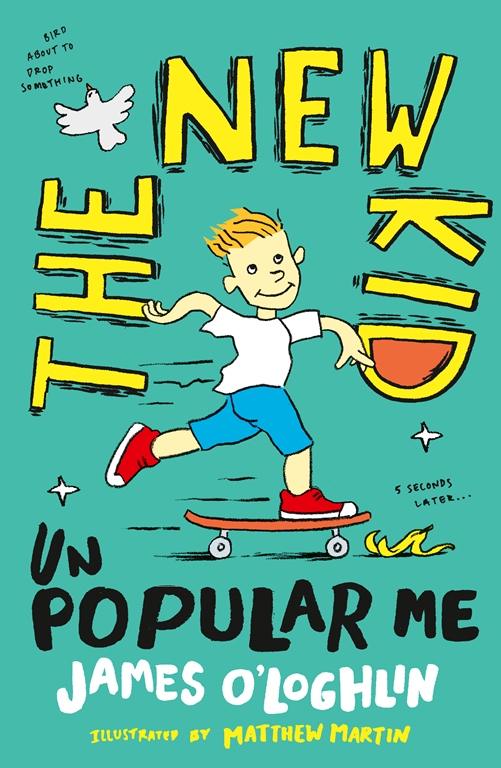 James O'Loghlin (text), Matthew Martin (illus.), The New Kid: Unpopular Me, Pan Macmillan Australia, 29 May 2018, 224pp., $9.99 (pbk), ISBN: 9781760554255
When eleven year old Sam moves with his parents from Adelaide to Canberra he finds he is the 'underdog' at his new school in more ways than one. Being the new kid in class is never easy, especially when your only friend seems to be someone who no one else wants to know. And then there's the fact Sam sucks at reading and has to attend a 'special class'. Not a great start. But Sam is resilient, he doesn't give up that easily. He has plans of how to become one of the popular kids although he didn't count on it being quiet so tricky. Okay, may be it wasn't such a good idea letting the little sister of a kid in his class cut his hair and perhaps he shouldn't have jumped out a classroom window just to seem cool, like the tough guy in class Johnny Wilson. There was also the little incident with the fireworks. 
In his first of The New Kid series, James O'Loghlin, has created a character in Sam that taps into many school and growing up experiences. Through lists, dialogue and humour; using larger than life characters and situations, O'Loghlin draws the reader into Sam's struggle to survive not only his new school but his crazy family.
Supported by Matthew Martin's humorous illustrations this is a terrific junior fiction novel to get kids reading and enjoying it. It may even draw in a few of those reluctant readers. Highly recommended for 8 – 10 year olds.
Reviewed by Mem Capp