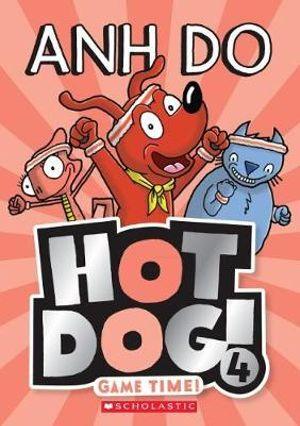 Anh Do (text), Dan McGuiness (illus.) Game Time! (Hotdog #4), Scholastic Australia, 1 June 2018, 128pp., $12.99 (pbk), ISBN: 9781760279035
Hotdog, Kev and Lizzy are friends. They have fun together and are there for each other when things are tough; that's why they want to help Kev. Kev is sad because he misses his mum, a doctor who works on Rainbow Island a long, long way away. When the friends come across a poster in the local park for a Game Day competition they figure this might just be the answer as the big prize is none other than a trip to Rainbow Island. Kev is really strong, Lizzy is really fast and Hotdog loves leaping really high, they make a great team. But can they match up to the competition, the tough looking bulldog team, the Mud Pie Pigs or Team Ocean, the penguins? 
In this fourth book of the Hotdog series, the multi-talented Anh Do has created wonderful characters in Hotdog, Lizzy and Kev. They are funny, generous and kind as well as clever, if unlikely, athletes. Well paced action and dialogue supported by humorous illustrations by Dan McGuiness makes this series great for early or reluctant readers. Highly recommended for readers aged 5+.
Reviewed by Mem Capp