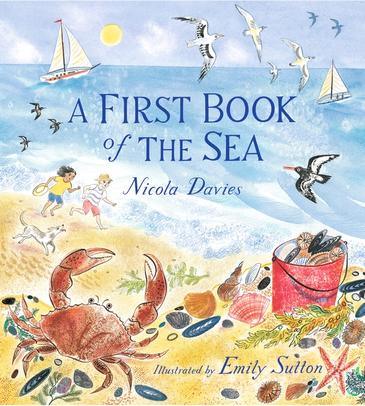 Nicola Davies (text), Emily Sutton (illus.), A First Book of The Sea, Walker Books Australia, 1 July 2018, 104pp.,  $29.99 (hbk),  ISBN: 9781406368956
Every possible shade of blue washes against poems of ochre and yellow, tropical green and soft pink in this latest collaboration between Nicola Davis and Emily Sutton. A clear lover of all things to do with the sea, Davis, a graduate in zoology with experience in the Natural History Unit at the BBC brings a passion and wealth of knowledge to her poems to inspire a wonder in the very young and perhaps not so young.
Bringing her skills as an artist/illustrator Sutton supports and develops Davies' poems using a number of styles and techniques in her illustrations. Fluid brush strokes in Giant Squid and Waiting for a Wave, contrast with The Voyages of Captain Zheng He and Limpets where a spare but detailed minimalism is employed.
We begin our watery adventure with the poem First to See the Sea which taps into those feelings of wonder, freedom and the promise of discovery that such journeys to the beach inevitably excite in a young child; the sea at once calm and meditative can become tumultuous and over-powering. Davis captures the many facets of this giver of life that covers more than two thirds of the earth's surface through meditative poems such as Pebbles and Shipwreck to small fact based reflections like Under The Sea to more poetic information poems such as Plankton.
Using a variety of writing styles from free verse to rhyme, couplets to quatrains Davies is  able to capture the appropriate mood in her verse but also model a plethora of poetic styles. A beautifully produced book that will not only inspire a love of the natural world and sea in particular but  celebrates the poetic form.
A wonderful addition for home or school library.  Highly recommended 5 -7 year olds.
Reviewed by Mem Capp