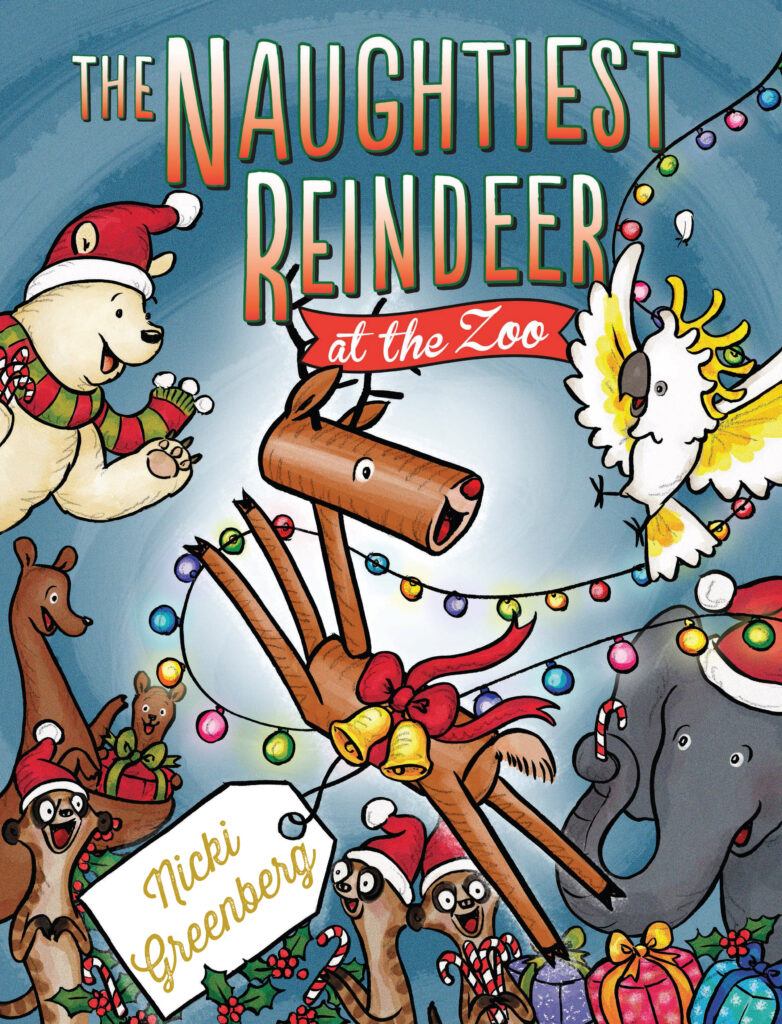 Nicki Greenberg,  The Naughtiest Reindeer at the Zoo,  Allen & Unwin, 1 Oct 2015,  32pp.,  $15.99 (hbk), ISBN 9781760112141
Ruby the reindeer is back for another misadventure, this time housed at the zoo while the family enjoy a quiet Christmas with relatives.
Greenberg's story opens the readers' eyes to how the season might not be so festive for everyone and what it is feels like to be left out. She also neatly picks up on the dilemma of thinking you are doing the right thing, just to have it end in disaster.
Punchy black crayon line jauntily sets off flat computer and painted colours. But for me the delight in this picture storybook is in the rolling rhyming text, for example the spread of partying animals dancing to short sharp-paced assonance.
Having obtained the keys and raided the food stores Greenberg peps up her story with awful realism when the predators amongst the zoo fraternity are not sated by their feast and want more. Only Santa can help, but with another stroke of grown-up truth, he is far too busy. The sleigh-driving reindeer rebel in order to help out their fellow animals and Santa for once has to forgo his annual duties. Rhyming 'stocking' with 'shocking' brings home to the reader the enormity of this worldwide Christmas present delivery failure.
But the day is saved and Ruby gets her way after all.
Reviewed by Liz Anelli