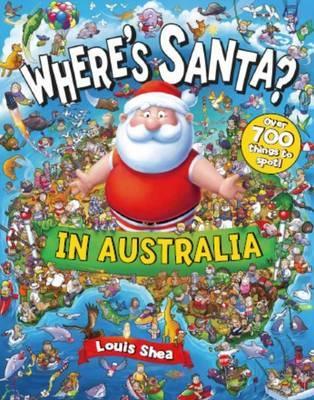 Louis Shea,  Where's Santa? in Australia,  Scholastic Australia,  1 Oct 2015,  24pp.,  $16.99 (hbk),  ISBN 9781743626351
If you are looking to keep primary aged children entertained for long periods of time with some hide and seek fun this might for you. Possibly one to slip into the back seat for long holiday car journeys, this activity picture book is peppered with over 700 specifically 'Australian things' to look for and find.
A follow up to Where's Santa? Shea sets the scene with an opening comic-book style narrative and previous characters are re-introduced. Santa is squeezing in a visit Down-Under to Cousin Barry before the annual big present distribution when Rudolph get up to some tricksy flying magic with Bluey, the dog.
Australian visual jokes abound (some that parents alone will pick up on) throughout the remaining pages of searching for the naughty animals and children. These are cleverly hidden within densely detailed and coloured illustrated pages that take the reader around the continent to significant places of each state and territory. I took ages to find some of the harder and smaller items. The clean computer graphic style allows such detail to remain legible throughout. Educational in the layout, readers are using counting skills as well as observation and memory.
Reviewed by Liz Anelli