Andrew Daddo (text) and Stephen Michael King (illustrator), The Map of Half Maps (Atticus Van Tasticus #2), Puffin Books, March 2020, 272 pp., RRP $14.99 (pbk), ISBN 9781760892913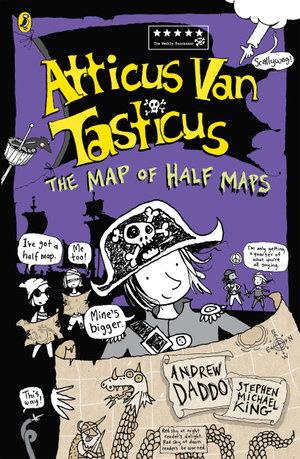 Kids! Assemble your crew! This is the much-awaited second instalment of the Atticus series, and it's sure to be a cracker. Right, we all know every Pirate Crew needs an Atticus (brave, fearless, a dreamer) a Stink Eye (always ready for a battle) and a Buttface (not sure why, you just do).
Atop the crow's nest, Atticus sets his spyglass to the big wide blue, hoping he sees not a Devil's Ship – or a boat of Nubian Ibex for that matter. No, it's worse… Vikings! This is nothing his fantasticus crew can't handle! "Vikings to port, pegasus to starboard. We bait them into battle…" It's this sort of piratey-talk that will get junior readers ready for Talk-Like-A-Pirate Day.
Readers of Captain Underpants and the Storey Treehouse Books will love The Map of Half Maps. It's a cheeky, and at times hilarious tale destined to sit alongside The Odyssey. After all, this is "A TRUE STORY- from the memories of made-up people."  
This instalment picks up where the first left off but also begins anew. It can be read alone if need be. Full of maps and codes to crack, and of course Half Maps to decipher, this is a must for eager readers looking for the next thrill. Ships ahoy, Captain! Atticus is your new classroom hero. 
Reviewed by Belinda Raposo