Claire Saxby, Haywire: The Dunera Boys (Australia's Second World War #2), Scholastic Australia, March 2020, 246 pp., RRP $16.99 (pbk), ISBN 9781742769196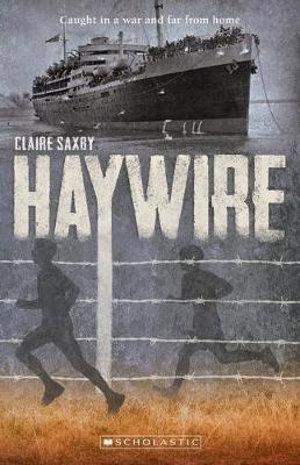 Though Claire Saxby is an experienced poet and writer for children, this is her first novel. It is a charming and engrossing tale told from the viewpoints of two fourteen year olds whose lives are upended by the eruption of war in Europe in 1939. Tom Hanlon lives in the NSW country town of Hay. His two brothers are heading off to fight in Europe, his older sister plans to run away to Sydney to marry a soldier, and Tom's plans for winning a scholarship to go to university are put on hold while he stays away from school to help out in his father's bakery.
Max Gruber, also fourteen, is smuggled from Germany to Britain by his dissident parents, and from there he finds himself a victim of Churchill's plan to move 'enemy aliens' out of Britain. He finds himself, after some frightening and tragic mishaps, impounded among hundreds of Germans in an internment camp in Hay with an ailing uncle, bullied by two older boys who sense he's younger than he claimed and an easy victim. The strengths of the story are in the historical detail and the warmly vivid life Claire Saxby has given to her characters. The plot develops tension and fast pace towards a climax, and along the way features some of the rough, the kind-hearted, the wise and the bigoted characters you might find in almost any Australian country town, even today.
This is a novel that deserves a wide readership among young readers with an appetite for learning something about our history while being taken on an adventure. Recommended for readers from nine years to thirteen years among the young, and for anyone beyond that who is looking for historical fiction of a high quality.
Reviewed by Kevin Brophy