Andrew Daddo (text) and Stephen Michael King (illustrator), Atticus Van Tasticus, Puffin Books, 240 pp., September 2019, RRP $14.99 (pbk), ISBN 9780143796541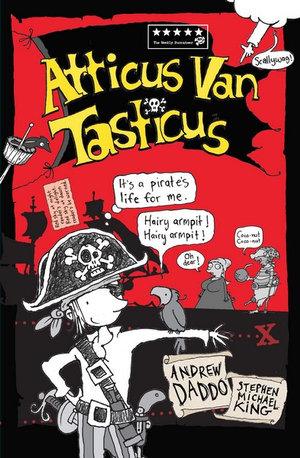 In the first book in a new junior fiction series, Atticus Van Tasticus turns ten and, due to an old family tradition, has to make a choice that will set the path of his life forever. Exploring the treasure trove belonging to his fabulously wealthy Grandnan, he must decide between what his head (and parents) is telling him and what his heart longs for. Opting to follow his heart, he forgoes treasure for a full-size pirate ship, and soon finds himself enlisting crew to begin the life of a rogue on the high seas.
In this chaotic and funny adventure, Atticus faces sharks, extreme weather, a strangely orange stranded pirate called Captain Trumptee, and a foe who seems strangely familiar. With the help of his quirky crew he pursues treasure amid all sorts of unexpected twists and turns.
Stephen Michael King's illustrations are suitably exciting and quirky, with plenty of intriguing maps, explanatory diagrams and handwritten lists, as well as small animals hovering on the margins commenting on events. A story within a story unfolds through a series of comics following the adventures of a stowaway puppy. There is plenty to look and enjoy. The book also contains a two-page tutorial on how to draw Atticus, as well as a pirate name generator.
Although the book lacks gender balance in terms of numbers, with the pirate crew predominantly male, the female characters are strong and actively involved in the plot. The story is crazy but exciting, with lots of humour and some pop culture references for adults reading the books to their kids (think Donald Trump and Titanic). One for the whole family to enjoy.
Reviewed by Rachel Le Rossignol