Libby Gleeson (text) and Jedda Robaard (illustrator), Soon, Hardie Grant Egmont, May 2020, 24 pp., RRP $24.99 (hbk), ISBN 9781760501235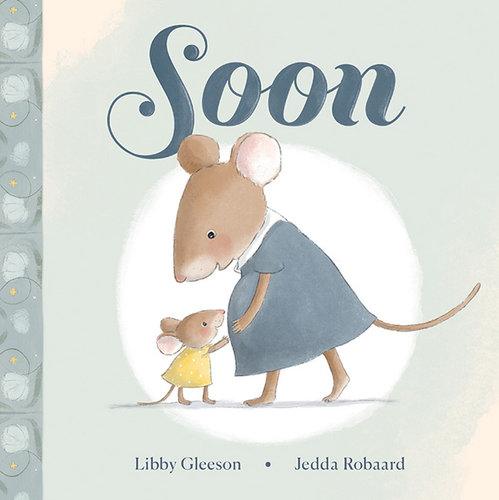 Mum Mouse is waiting for the birth of her new baby, complete with tummy rubbing gestures, and baby's big sister is helping with all the chores: washing the tiny clothes, painting the crib, sorting the toys. The refrain, at the end of each activity, when will the baby come? is accompanied by Mum's reply Soon! Expectant parents will recognise many of the situations during the wait, including baby bumping the young mouse's hand. How much longer? And still they wait, wait, wait – along with Mum's sighs.
The illustrations are delightful and cute on cream or white backgrounds, but I would have preferred to see people not mice as the characters. I have never really liked stories with anthropomorphic animals and Jedda's illustrations, while beautifully executed, kept distracting me from the verbal text. It's also a pity that Dad has not been included in the wait; in fact, there is no sign of Dad at all. Gleeson's text is simple, suitably repetitive and expresses well how long the wait for a new child is, for both parents and older siblings.
For this reader, it could have been so much more.
Reviewed by Maureen Mann