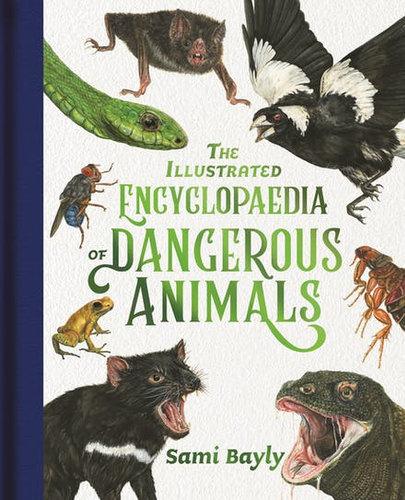 Sami Bayly who bought us the award-winning Illustrated Encyclopaedia of Ugly Animals is back with another illustrated encyclopedia; this time it's all about 'Dangerous Animals'. 
In this volume Sami describes sixty different 'dangerous' animals, with a special introduction that sets the tone for reading – that these animals are often misunderstood, and they are fascinating creatures in their own right. I appreciate this open attitude and focus Sami has chosen in both her books; towards an understanding of animals that we would otherwise perhaps fear or reject. An important message for children in today's world more generally.
Each page spread is dedicated to an individual animal – a wonderfully rendered watercolour picture on one page and textual information on the other. The beauty of illustration over photography, in my opinion, is that the artist has total control over how they want the image to look and can insert some personality into their depiction as well. Whilst Sami's paintings are very scientifically accurate, they also inspire a sense of appreciation of the unique individuality of each animal. For instance, the amazing mosaic pattern on the body of the aptly named, Mosaic Crab, the brilliant blue body of the Human Botfly or the large mesmerising eyes of the Greater Slow Loris. Set against a plain background the pictures really pop and readers can spend several minutes admiring the intricate details that Sami has achieved in each.
The textual component is broken up into smaller sections: description; danger factor; conservation status; diet and location/habitat. There is also a 'Fun facts' box about each animal. The writing style is informal, descriptive, and factual – making it easy to read and much more interesting than reading dry facts. The 'Danger factor' section describes what it is that makes this animal 'dangerous' and rather than being horrified I found myself impressed by their capabilities. It's also nice to see that the conservation status is highlighted to remind us all how our human activities have affected animal populations. Ironically if these animals were to write a book their number one dangerous animal may be a human!
The front cover of this book is beautifully presented; with a royal blue binding on the spine; a shiny emerald green title and equisitely painted images of 'dangerous' animals surrounding the title. It's a much cooler and updated version of the traditional encyclopaedia, and certainly makes one want to pull it off the shelf and take a closer look, and the contents don't disappoint. I would highly recommend this informational book for children aged 8 – 14 years and would not be surprised if it garners some awards like its predecessor.
Reviewed by Julie Bertola