Jessica Townsend, Hollowpox: The Hunt for Morrigan Crow, Lothian Children's Books, September 2020, 528 pp., RRP $17.99 (pbk), ISBN 9780734418241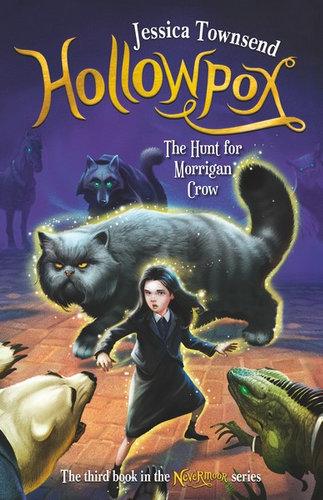 Hollowpox: The Hunt for Morrigan Crow written by Jessica Townsend is the third book in the Nevermoor series. I haven't yet read books 1 and 2 of the Nevermoor series, so I was a little behind the eight ball when reading this book. However, there was enough detail within the book that I was able to understand the plot and the characters well enough to enjoy the book. Where that failed, a little tutoring from my daughter (13) helped immensely (see her review below).  
Book 3 finds the heroine, Morrigan Crow, adjusting to life as a Wundersmith and moreover adjusting to other's reactions to her Wundersmith status. In Hollowpox, we see her learning more about summoning and using Wunder. Within the Wundorous Society (Wunsoc) her formal tuition as a Wundersmith begins. As she and her class mates become more established within the school they learn more about its history and purpose. Against this backdrop a menace emerges, the Hollowpox. The Hollowpox infects wunnimals (sentient animals) turning them into savage beasts. As the Elders, who govern Wunsoc, flail about attempting to hide the disease, and then to control the outbreak, and finally to distract attention away from the disease, Morrigan takes matters into her own hands.
I thoroughly enjoyed the use of humour throughout the story. The story is mostly well written, although like many series it suffers a little as the author attempts to corral multiple characters and storylines. The book's major themes are friendship; power, its uses, and misuses; discrimination; and growing up, and these are handled sensitively.
Hollowpox was scheduled for release in January of this year but the release date was pushed back twice and I now see why. Whilst I loved the book, the "disease" that gives the book its title, the Hollowpox, and the community reaction to it had eerie parallels with the current COVID-19 pandemic. For example, one of the chapters is titled 'We're All on the Same Side, Really', which for me was a little too close to the slogan "We're all in this together". I would caution parents and carers of younger readers (under 12 years) to read along with their children. Otherwise, for lovers of the Harry Potter series and fans of magic, action and adventure I would thoroughly recommend Hollowpox: The Hunt for Morrigan Crow to readers of all ages.
Reviewed by Anne Varnes
The third instalment in the Nevermoor series by Jessica Townsend, Hollowpox: The Hunt for Morrigan Crow, is a spellbinding addition to the Nevermoor series. While the start of the story, a view in Morrigan's life at Wunsoc and Deucalion, could be seen as slow paced and a bit dull, it is enjoyable to see how Morrigan's life has changed since the first instalment.
Morrigan has survived her terrifying trials, and her first year at Wunsoc… but Nevermoor is a wonderful city with many dangers. Finally learning the Wondrous Arts and navigating Wunsoc's many levels and mysteries, Morrigan feels at home with her brothers and sisters of Unit 919. However, a disastrous disease called Hollowpox sweeps through Nevermoor, infecting Wunnimals, turning them to savage beasts and then… leaving them as hollow Unnimals.
Morrigan is desperate to save her Wunnimal friends but one question is critical. Where did Hollowpox come from? Is it from Ezra Squall, the only other living Wundersmith or is there something or someone else in the Republic desperate to enter and conquer Nevermoor and the Free State?
Hollowpox: The Hunt for Morrigan Crow can be read by all ages; however, it seems best suited for late primary school to early high school. I would recommend it for any child or young teenager captivated by well written fantasy novels.
Reviewed by Naomi Varnes