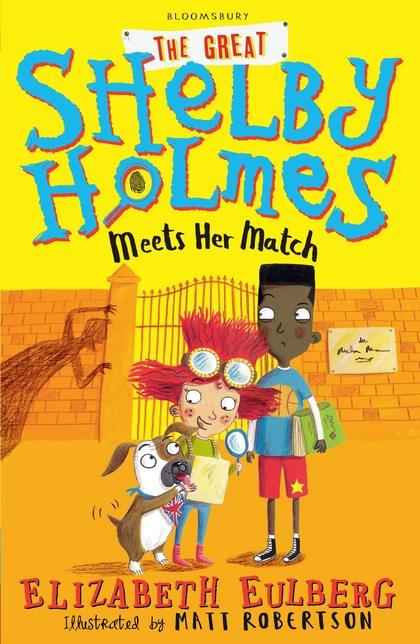 Elizabeth Eulberg (text),  Matt Robertson (illus.), The Great Shelby Holmes Meets Her Match (Shelby Holmes #2), Bloomsbury Australia, 1 Feb 2018,  256pp.,  $14.99 (pbk),  ISBN: 9781408871492
This second instalment in the Shelby Holmes series by bestselling author Elizabeth Eulberg is a fun middle grade read with lots of heart and a feminist twist. The story tracks the adventures of case-solving sleuth Shelby Holmes and her sidekick John Watson. At the New York School of Arts, nine-year old Shelby is so eccentric and rude that she is shunned by the other students. Shelby, like her namesake, has a complete disregard for the pleasantries that usually accompany polite social interaction – whether with adults or kids. Luckily, she has a best friend in her neighbour, the new kid at school, eleven-year-old John Watson. John sticks by her side and helps her with the social aspects of life.
Her deductive skills rub off on him and soon they are solving a case involving the new science teacher. Holmes' deductive smarts are offset by her snark and superciliousness.  John has his work cut out for him keeping up with her genius, as well as her inflated ego.  The story is told from John's point of view who manages to thread in plenty of sassy remarks on the outrageous behaviour of his friend.
The Great Shelby Meets Her Match is a story about observing and noticing and never giving up, perfect for budding kid detectives. Black and white illustrations by Matt Robertson complement the text.
Reviewed by Elizabeth Foster