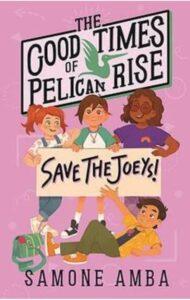 Young activists will adore this new middle-grade series which focuses on kids making a positive difference in their community. Set in rural Australia in the fictional township of Pelican Rise, the story takes place in the immediate aftermath of the bushfires during the 2019-2020 summer. 
Main character, Sunday Moon, and her three friends are in Grade 6 and tired of being stuck in after-school care. But when their teacher assigns a legacy project and the after-school care leader reveals that her cousin runs a wildlife centre, the kids get fired up. It's not long before they've initiated a town-wide knitting frenzy to make pouches for orphaned joeys and set up a website called 'The Good Times' to report on progress.     
The theme of animals is built on with Sunday longing for a pet and going behind her parents' backs to chook-sit for a local. The story is notable for its portrayal of positive friendships and amicably separated parents. 
It could work as a good jumping-off point in the classroom for talking about activism and the environment, as well as the impacts of natural disasters on communities. 
Reviewed by Heather Gallagher