Jane Godwin (text) and Anna Walker (illustrator), Don't Forget, Penguin Random House Australia, March 2021, 32 pp., RRP $19.99 (hbk), ISBN 9781761040955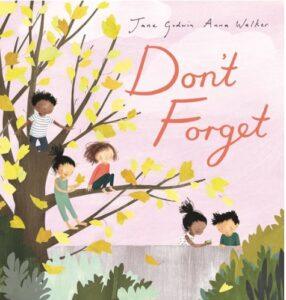 Renowned author and illustrator duo Jane Godwin and Anna Walker have brought readers their latest offering— and it's as beautiful as the rest of their respective (award-winning) back catalogues.
Don't Forget is a moving, hopeful evocation of the things we should hold tight in life. The book opens with generic instructions often given to children (make your bed, brush your teeth, do your homework), but soon ushers readers to more profound reminders:
Watch the ocean and listen to the music of the trees.
Don't forget to hope.
The pacing of the text is masterfully executed, as each 'don't forget' builds to a crescendo — the finale is a vision of what it truly means to be human.
The movement in the illustrations complements this pacing and brings a playful energy to the simple moments depicted in the text. The autumnal colour palette and diversity in the characters were particularly delightful — the pink open sky scenes will encourage readers to pause and take in their beauty.
A heart-warming read adults will want to revisit just as much as their little ones. Don't Forget will quickly earn a special place on many shelves!
Teacher's notes available on the Penguin Random House website
Recommended for readers aged 5 years old and up.
Reviewed by Sarah Stivens