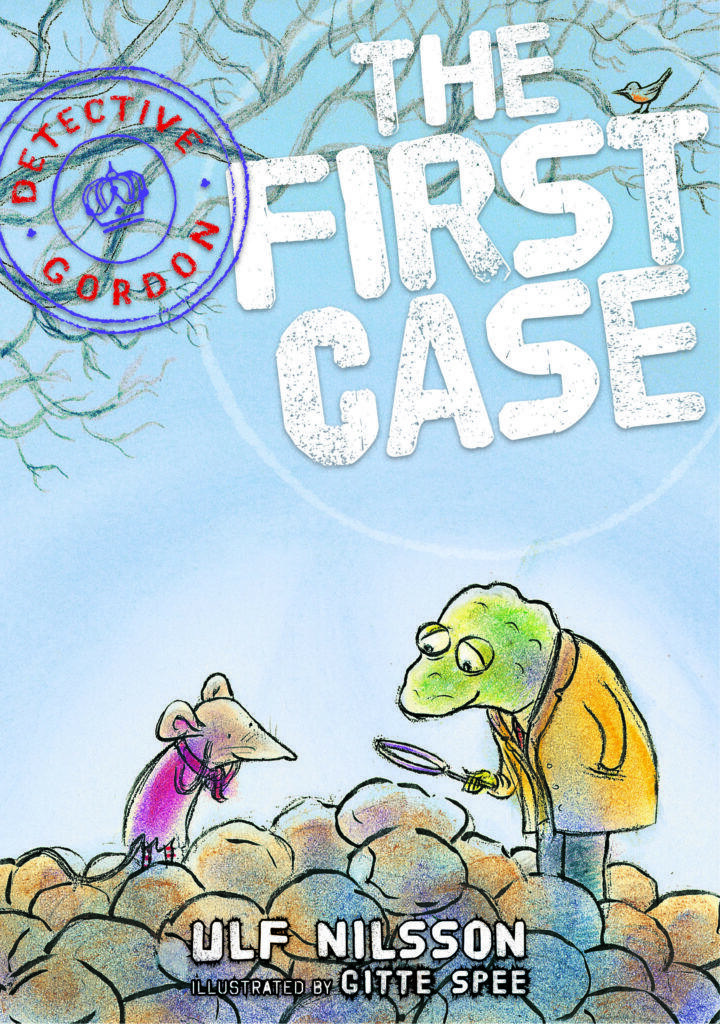 Ulf Nilsson (text),  Gitte Spee (illus.). The First Case (Detective Gordon #1)  Gecko Press,  March 2015,  $AU15.99/$NZ19.99 (pbk),  96pp., ISBN 978-1-927271-50-6
This beautifully illustrated chapter book is a thoughtful and poignant evocation of the tension between crime and its causes and consequences. This is a big issue that even young children have to negotiate. Ignoring for a moment the Darwinian predator/prey "natural law" conundrum, this anthropomorphic text brings to life the issues of difficult needs versus choices, fair and reasonable consequences, love and forgiveness, crime and punishment.
When a small squirrel discovers that his hazelnuts have been stolen, he goes to the police station where the famous Detective Gordon lives, an aging toad who likes nothing better but to solve puzzles and use his old-fashioned stamp "Ker-plunck." Squirrel rabbits on about the foul misdeed that has taken place, and the wise and thoughtful detective listens quietly as time is consumed. They finally head off into the snowy fields to search for the perpetrator of this misdeed that has happened all too frequently to many others. Finally the detective stands alone in front of a hole in a tree where the nuts were kept and he decides to wait and see if the thief turns up. A lone mouse is eventually espied and "in the name of the law" is ordered to stop. However toad has been covered in snow and is unable to move. He requests help and little mouse obliges. It transpires that little mouse was truly hungry and she is forgiven. Indeed, she is befriended by the famous detective and invited to become a policewoman. Ker-plunck! Will toad and little mouse discover who the wretched thieves are? What will be the consequence if they are caught? Can a young mouse and an old toad work together co-operatively? Why are cupcakes an important part of this story? Enjoy this amusing and ironic tale that invites children to think about these big issues. Is this take on crime and punishment naïve? Are children ready to forgive those who are troubled and suffering but are the ones who commit crimes? What does restorative justice mean in the context of this story? Highly recommended.  Teaching Notes are available on the Gecko Press website.
reviewed by John McKenzie