Anna Ciddor, The Boy Who Stepped Through Time, Allen & Unwin, June 2021, 336 pp., RRP $16.99 (pbk), ISBN 9781760526443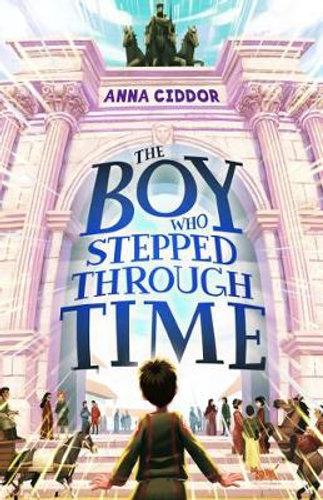 This new historical novel from the experienced children's writer, Anna Ciddor, is a lot of fun to read, and at the same time hugely informative about the details of what it might have been like to live in the fourth century CE Roman Empire.
Perry, the boy at the heart of this story, is on holiday with his parents in France. His mother loves exploring historical sites and attending festivals where people dress as Romans. Somehow Perry manages to slip across nearly two thousand years of time, to find himself a slave in a wealthy household. He has to get used to people lying down on couches to eat, and then using their hands instead of knives and forks, toilets that don't separate men and women, and actually pressing wine grapes with his bare feet. He misses his family and must find a way to repeat his actions in the very place where he had gone through time if he is to ever get back.
His slave-friend Carotus and his mistress Valentia (the daughter of the household) become his close friends and the only ones who know he is from the future. He holds the knowledge that Valentia died as a child. What can he do? Could he save her before he finds a way back to the future? What kind of accident might it be that is going to kill her? Is this why he went back in time? Perry (Peregrinus in Roman times) is resourceful, affectionate, and determined to do what he can to save his friend.
The final pages of the novel will be devoured by young readers wanting to know what happens to Perry. All the while, the past has come to life, its people have become real, and the present suddenly looks more temporary and 'historical' than ever because soon enough we will be the past that many young historians might be curious about.
Recommended for ages 8 to 13 years.
Reviewed by Kevin Brophy