Wenda Shurety (text) and Deb Hudson (illustrator), Pear of Hope, EK Books, May 2021, 32 pp., RRP $25.50 (hbk), ISBN 9781925820867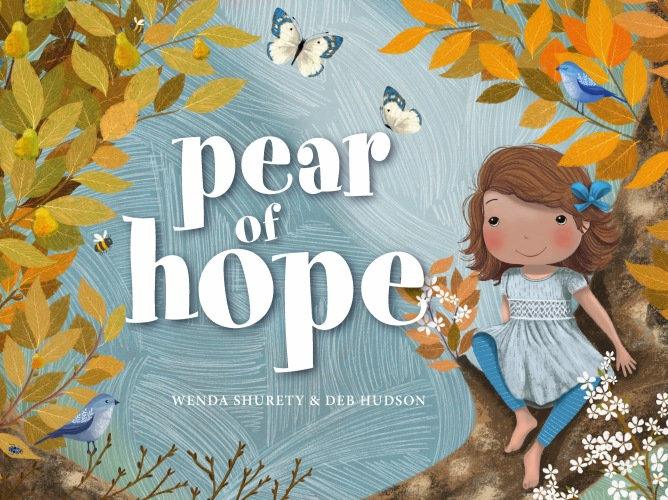 Pear of Hope is Wenda Shurety's fifth picture book and tells the tale of Anna, a little girl whose recovery from serious illness is soulfully intertwined with the life cycle of her beloved pear tree.
At the bottom of the garden grew an old pear tree.
A home of buzzing and budding, scuttlers and flutterers, and tweets and squeaks.
It was Anna's secret hideout.
A climbing frame of adventures.
A giver of rough and crinkled hugs.
A promise of whoops and whispers.
A symbol of hope in so many cultures, the pear tree provides Anna with hope and peace on her difficult journey. As her illness progresses and the little girl is no longer able to go outside, the leaves fall from the tree, the skies darken, and winter arrives. Time passes and in spring small leaves return to the pear tree, the skies brighten, and Anna's recovery becomes evident with her turfs of regrowing hair and the renewal of her adventurous, playful spirit.
One day, Anna plants the seed of a ripe pear from her gnarly, old tree and a new green shoot springs to life. As brave little Anna waters her sapling and watches it grow the enigmatic concepts of hope and positivity are made clear in this beautifully illustrated story. Deb Hudson's depictions of Anna's garden are bright and joyful, acting as a regular reminder to young readers of the beauty found in nature.
Told through sensitive prose and Deb Hudson's vibrantly textured illustrations, this picture book is a comforting, positive outlook on a difficult journey for so many families. Author Wenda Shurety wrote Pear of Hope because, as someone living with Multiple Sclerosis, hope has been instrumental in her healing process, and she wanted her readers to understand this too.
This poignant story, with its brave, adventurous main character will comfort and inspire young readers. Aimed at children aged 5-8 years, this title would also provide educators, counsellors, and parents with a gentle starting point for discussions surrounding hope and building positive outlooks amidst the struggles of an illness.
Teacher notes are also available on the EK Books website.
Reviewed by Lisa Hoad