Kate Gordon, The Ballad of Melodie Rose, University of Queensland Press, June 2021, 182 pp., RRP $14.99 (pbk), ISBN 9780702263217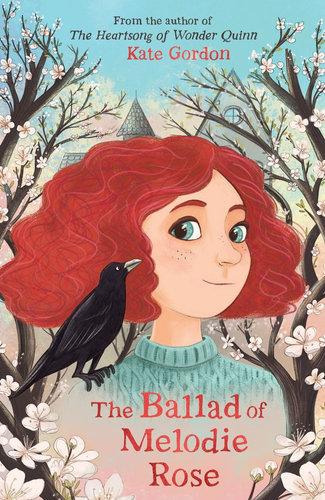 As I was reading The Ballad of Melodie Rose by Kate Gordon, an uncomfortable feeling began to grow in the pit of my stomach. This feeling intensified the more I read. Why? Because when I have to review books such as The Ballad of Melodie Rose, I always have a nagging sense that I am not doing the work justice. That nothing I write will perfectly capture the wonder, the depth, the lyrical beauty of this book. Anyway, I guess all I can do is try.
The story begins when Melodie Rose is left on the doorstep of Direleafe Hall with a note pinned to her coat. Her grandmother runs the home for young girls. A great tragedy has occurred in Melodie's life, and she believes she is now a ghost. Her past murky, her memories gone, Melodie is shrouded in sadness, but quickly befriends three ghost girls who also live at Direleafe Hall and a cantankerous old crow named Hollowbeak. When a Lady in White comes to buy the Hall with the plan to destroy it, Melodie and her ghost friends, Nell, Florence, and Lucy (along with a reluctant Hollowbeak) are determined to stop her. One by one their plans fail and although they become more desperate, Melodie still believes that the answer to their problem can be solved with kindness and humanity.
This book brims with the themes of kindness, grief, friendship, and love. It is maybe a little slow to start, but as the reader becomes immersed in the wonderful lyrical language of author Kate Gordon, Melodie's tale takes a firm hold of heart and mind. This is a life-affirming tale of belonging, courage and being seen and the kind of story that needs to be savoured slowly, to let the ebb and flow of the prose wash over you. There are many hidden truths about grief and love anchored within, but also hope and understanding. I found Melodie's optimism, strength and can-do attitude completely endearing.
The delicate black and white illustrations by Rachel Tribout that pepper the book, as well as the designs around each chapter, add a delightful touch to this middle grade novel.
This story follows on from another tale set at Direleafe Hall, The Heartsong of Wonder Quinn and after reading The Ballad of Melodie Rose I am super keen to read its bestselling and critically acclaimed prequel. 
The Ballad of Melodie Rose is a beautiful tale, expertly told and crafted. It's a quiet book with a large beating heart and I dare anyone to read it and remain unmoved. It should appeal to readers who enjoyed The Girl Who Drank The Moon by Kelly Barnhill, Charlotte's Web by E.B. White and Tensy Farlow and the Home for Mislaid Children by Jen Storer.
Reviewed by Renee Mihulka