Christopher Cheng (text) and Liz Duthie (illustrator), Wombat, Walker Books Australia, April 2021, 32 pp., RRP $26.99 (hbk), 9781760651374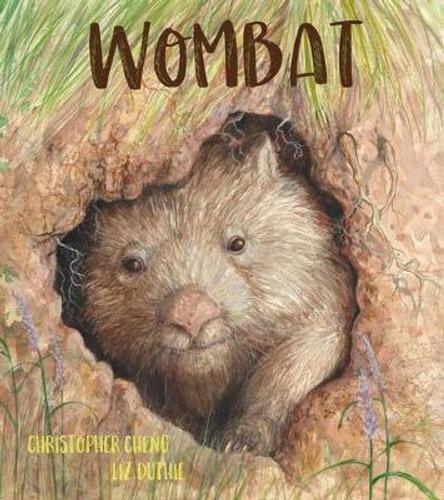 "Far underground, where dirt and tree roots mesh, are tunnels that lead to a burrow, and in this burrow Wombat's day begins."
Wombats are generally nocturnal marsupials, spending most of the daytime in burrows.
Author Christopher Cheng brings us another book in the Walker's Nature book series focussing on Australian native fauna. Each book is written in a narrative style with sections of facts on each spread in different fonts.
The reader is introduced to Wombat tunnelling in burrows, bulldozing through fences and playfully sun-basking.  Conflict with other wombats and a dingo contrasts with the safekeeping of her joey deep underground. Cheng's active writing style works well with the snippets of information woven into the story. Interesting details about wombat's whiskers above her eyes and her cube-shaped poo will hold children's attention.
Liz Duthie's illustrations are earthy and realistic, capturing the curiosity and charm of Australia's much-loved wombat. They complement the text focussing on the wombat's unique way of life and endearing quirks. My favourite illustration is the image of a wombat staring from the front cover through a heart-shaped burrow.  
Wombat is a page turning nature book for 4-8 year olds with an interest in native wildlife.
Reviewed by Stef Gemmill