John Michael (text) and Dave Atze (illustrator), Googol Boy and the peculiar incident of the Great Quiz Trophy, Big Sky Publishing, March 2021, 300 pp., RRP $14.99 (pbk), ISBN 9781922387141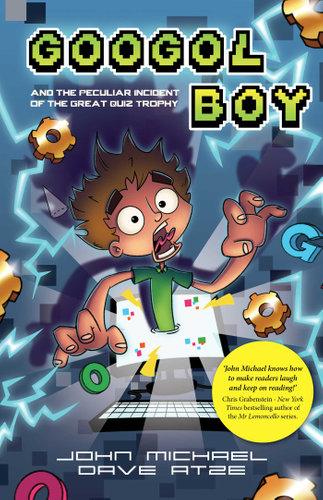 A sure-fire way to get kids to read is to make them laugh and Googol Boy certainly delivers. When under-achiever Howie is zapped by lightning while working on his computer, his brain absorbs and stores all the information on the Internet. But how will he control this unexpected power … and find the Great Quiz Trophy, which has mysteriously disappeared?
This action-packed book has everything a young reader could want: quirky characters, scary teachers (we've all had a Miss Fremskey; mine was named Sister Anunciata), zany antics, non-stop adventure, loads of humour, clever wordplay and more. Through the imaginary setting of Quockingpoll Flats, author John Michael, an English teacher by day, has crafted highly relatable characters including a protagonist that we can't help but cheer for. The cartoon-like drawings by Dave Atze, illustrator of the Max Booth series and more, convey an extraordinary range of emotion and expressiveness through the eyes alone.
Tackling themes of friendship, identity, family, adversity and justice, Googol Boy is a highly entertaining read for young and old alike. Fans of Googol Boy take note: The second book in the series is coming out later this year.
Reviewed by Maura Pierlot