Reviewer Tessa shares the books she enjoyed the most over the past year…
'Something old, something new, something borrowed, something blue'. I'm co-opting this old bridal rhyme to shape my selection of favourite books read in 2016. Although each chosen book is a work of fiction, all four convincingly transported me to a new reality.
Marcus Clarke's novel of convict life in Van Diemen's Land was first published as a serial between 1870 and 1872. I read the 2016 Text Classics e-book. Clarke's female characters are largely passive creatures, not fully realised; his men (and this is really a book about men) are desperate and dogged – whether they are administering penal servitude or seeking an escape from it.


Something new(ish): Hild by Nicola Griffith
Cultural and religious flux; women striving to understand their sexual identity and their place in the world; men plotting military manoeuvres in order to capture neighbouring territories. Familiar themes? Welcome to a pivotal time in western history – seventh-century Britain.


My sister lent me her copy of this Pulitzer Prize-winning novel. It requires concentration and is best read slowly; the words are worth savouring. Via alternating voices and shifting time frames, Doerr imagines WWII through the experiences of two resourceful children – a blind French girl and an orphaned German boy.


The cover of this seafaring adventure, the first in a three-book series, features the swirling blue waters of an ocean – the setting for a race charged with danger and intrigue. What kind of courage does it take to venture into the unknown? Fourteen-year-old Quinn is a winsome guide in this uncharted territory.


A bit about Tessa Wooldridge…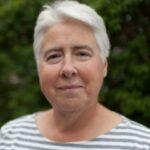 Tessa Wooldridge has worked as a primary school teacher and a librarian, and has an MA (Writing) from the University of New England. Her many years as an indexer of Australian literature with the AustLit database kept her in touch with developments in children's and YA writing long after her own children had grown up. Tessa continues to read, review, tweet and blog about Australian children's and YA books. She has been a member of the ACT Branch of the CBCA since 2012.