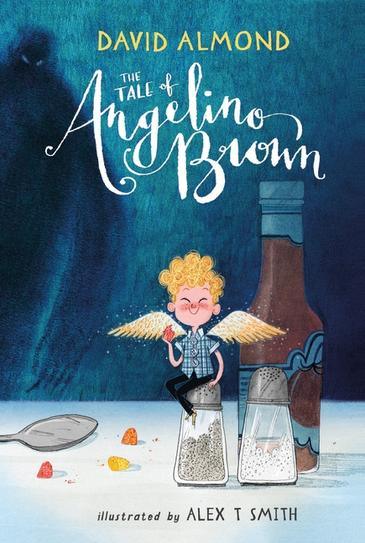 David Almond (text), Alex T Smith (illus.),  The Tale of Angelino Brown, Walker Books Australia, 1 July 2017, 272pp., $19.99 (hbk) ISBN 9781406358070
This book was full of surprises. Right to the very last page, I never knew what was going to happen next.
One day, while at work, Bert the bus driver finds a real live, Tom Thumb-sized angel in his pocket. He's surprised and takes it home to his wife Betty, who is a school lunch lady. They name the tiny angel Angelino and welcome him into their lives, taking him along to their workplaces.  Bert's been driving buses for 10 years and has become jaded with his job. But Angelino changes that. His very presence draws people in and conjures up a sense of wonder, hope and joy – particularly for those who have forgotten those feelings. He makes kids giggle too, because he farts.
There are some great characters in this book – school kids, a fabulous art teacher and a mysterious man and his "Boss" – the author cleverly endears them to us as the story progresses. The ending is heart-warming and unexpected, with some loose ends which could prompt interesting discussions with young readers.
The illustrations are black and white with a sense of fun. The book is beautifully designed, with small drawings scattered throughout the text, as well as full-page pictures. I particularly like the buses driving across the pages. My kids love looking under dust jackets at the hardcover and this one was well worth a peek – it is a smart navy colour with a sweet angel flying across the front cover, while on the back he looks decidedly impish. The yellow endpapers provide a bright contrast and are scattered with English Midget Gem gummy lollies, which it turns out the angel quite enjoys.
This is a surprising story and a beautifully designed book for readers aged 8+.
Reviewed by Carissa Mason