Aaron Blabey, Superbad (The Bad Guys #8), Scholastic Australia, October 2018, 144 pp., RRP $14.99 (pbk), ISBN 9781760279509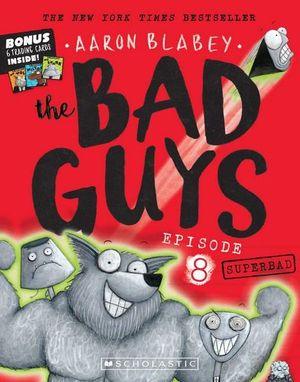 I was truly excited to get the opportunity review Bad Guys 8: Superbad. I'm a huge fan of Aaron Blabey and this is one of my favourite series to share with my two boys. We have been reduced to tears of laughter many times over reading these books and this one is no exception.
The Bad Guys series is about your usual fairy-tale bad guy suspects: Wolf, Snake, Shark, Piranha and Spider.  However, they decided to become The Good Guys Club and show the world how good they can be.  Since meeting Agent Fox, they have dreamed of joining the International League of Heroes, a secret organisation of do-gooders.  In the previous seven books, the Good Guys (with the help of Agent Fox) have saved the world from zombie kittens, survived capture by the perpetrator – the evil Dr Marmalade, travelled back in time, and escaped being eaten by dinosaurs. And more! 
Now they're back in their own time but it seems that time-travel has bestowed on them special gifts – superpowers! Not only that, but they brought back with them a T-Rex who now has super intelligence and they finally meet the remaining members of the International League of Heroes.
They just need to learn to control their powers so they can face the next big challenge – saving the planet from Dr Marmalade and his army of evil alien friends. But it's not as easy as it seems and leaves lots of room for side-splitting gags.
Aaron Blabey's clever wit, expressive illustrations and fast-moving storyline has not faded in the eight book and promises to continue over the remaining books. This is a great choice for even the most reluctant of readers. What's even better is that Dreamworks is currently working on an animated Bad Guys movie so keep an eye out for that.
Reviewed by Pamela Ueckerman